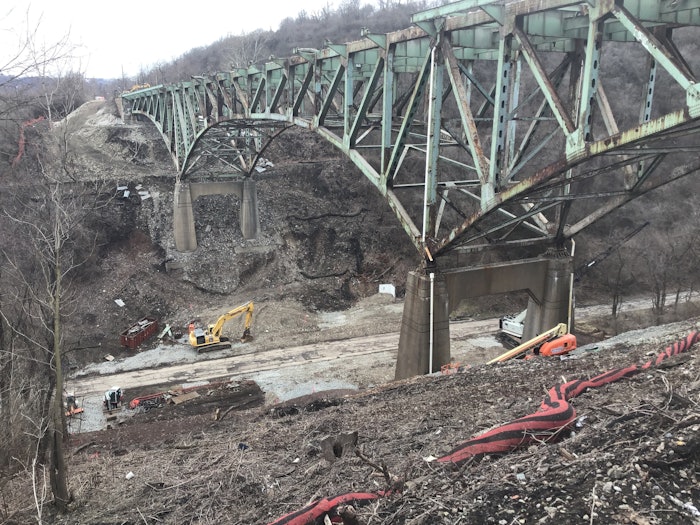 Photo credit: Allegheny County
It took 96 strategically placed explosives to implode an 80-year-old steel bridge in Pennsylvania to make way for a new one.
The Allegheny County Public Works Department imploded the 635-foot-long Dooker's Hollow Bridge on February 13. The implosion sucked 470 tons of steel down 70 feet. The explosives were placed in 54 locations on the old bridge, according to the department.
Allegheny County tweeted out these videos of the implosion – one at actual speed and one in slow motion:
The implosion was conducted by Allison Park Contractors and Demtech. The bridge linked North Braddock Borough and East Pittsburgh Borough over O'Connell Boulevard.
Construction of a new steel girder bridge is planned to begin in March. Allison Park Contractors was awarded the contract for the $9.95 million project.
The old bridge opened in 1940 and carried 2,415 vehicles a day. It was an arched cantilever truss bridge. It will be replaced by a 660-foot-long steel girder bridge. The new bridge is expected to be completed in December.