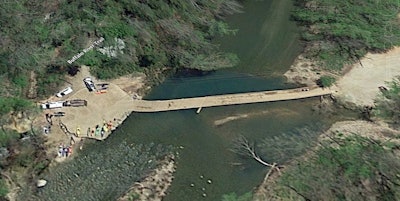 A low-water bridge in Ponca, Arkansas, that crosses the upper Buffalo National River is getting much-needed restoration and stabilization this month, according to KY3.
The Ponca low-water bridge opened in 1943, and is one of just a few low-water bridges remaining in Arkansas.
"A lot of baptisms took place at that location," Caven Clark, a public information officer with the Buffalo National River, told the news agency. "It's one of the few places where there's a bridge across the Buffalo. At this point in time, it's the oldest bridge across where you can stand, look down into the water, look at the fish. You can't really get that experience anywhere else."
The restoration project — including stabilization of the original bridge foundation, resurfacing the road deck, and patching weak spots on the structure — is being funded by the Eastern Federal Highways Program.
"It's a little bit controversial," Clark told the news agency, explaining that many people are excited about the restoration, but others are not. "One of the reasons for the Buffalo National River being with the National Park Service was in recognition of it being un-dammed and unimpeded, but that bridge impedes the flow of the human traffic along the river. But by the same token there's an equally supportive faction of people that would hate to see it go. There's a lot of tradition. A lot of family experiences associated with the bridge that would be lost with a loss of the bridge."