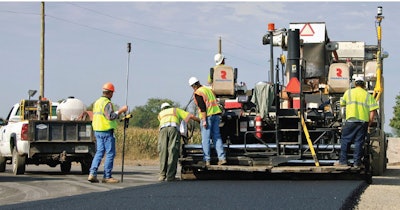 At Volvo Construction Equipment's Road Institute, which teaches best practices for paving, trainers hear common refrains from operators who have been stymied by automatic grade control and slope (AGS) systems.
"We often hear in our paving classes and our automatic grade-and-slope classes where people have the systems, but they tried to use them once and they didn't get the training. They don't understand them. They don't set them up correctly. They fail. They throw them back in the box, and they don't deal with them again," says Wayne Tomlinson, who teaches compaction classes.
"They go back to operating the paver completely manually."
But knowing how to use AGS can reduce human error and boost productivity, according to Tomlinson and fellow trainer Flemming Knudsen, who teaches paving at the institute.
Once operators learn it, instructors hear such comments as, "Wow, I didn't know it could do all that!"
Using this increasingly required machine control technology can also strengthen a highway contractor's competitive edge in the bidding process, says Devin Laubhan, paving product manager for Trimble.
"There are your competitors in your area who have not given up on the technology and who have embraced it," Laubhan says.
"They are the ones who are going to start learning how to competitively bid projects using technology, and they may have a competitive advantage against a contractor who has chosen not to implement technology. And the contractor who has given up runs the risk of not being awarded contracts based on that."
Hands-on training needed
Many operators who first arrive for classes at the Road Institute in Pennsylvania or Arizona have received no training on their AGS systems. "And you can't just get it from a manual," Knudsen says.
To learn it, an operator must first know manual paving and best practices, say the instructors and Laubhan. Another prerequisite, the instructors say, is matching the AGS system to the valves on the type of machine the operator uses.
The Road Institute relies on Volvo Construction Equipment's Blaw-Kontrol, which is proprietary to Volvo pavers. They use the Topcon System V or P32 for training. The courses, however, are designed to help operators on any type of equipment.
"The big thing to look out for is that when somebody gets a system, wherever they get it, it must be matched one time to the particular paver they're running. That's to compensate for the valve tolerances that vary actually from paver to paver, even with the same manufacturer," explains Knudsen.
"The operator needs to have somebody who knows the system set it up for them to match it to their paver. It only has to be done once, and it will stay matched, if you will, forever."
Once a system's working, he says, it is much more accurate than a human, almost like cruise control – and that cuts stress for paving crews.
"Once you set up the depth and thickness and slope and grade you want it to follow, it'll repeat whatever it sees," says Knudsen. "And you can control that with the automation. Once you get it going, like on a big highway job, they just walk alongside it for miles."
Prices vary anywhere from $10,000 to $25,000 for a standard AGS system. If you get into laser correction or 3D paving, prices go up, he says.
How AGS works
A complete system typically consists of two control boxes that contain electronics, two grade sensors and one slope sensor, along with mounting hardware.
The system allows an operator to "control the angle of attack, which controls the depth of the mat that's being laid and the profile of the mat because of the way the screed's set up," Knudsen explains.
Two definitions are key: The grade is defined as going down the center of the road. The slope goes from the road's center to the shoulder.
There are two systems that run parallel, with one sensor on the left and one on the right. The left sensor generally goes down the center line of the road, and as it follows the grade, it controls and changes the depth of the mat, or the thickness, of the profile, Knudsen says. The right sensor can sense off a reference, such as a city curb, or an operator can run slope manually.
"There's a beam between the two tow arms, and there's an electronic level on that. As the grade changes on the left, the level picks up that change and sends a signal through to the right and adjusts that tow-point cylinder to maintain the slope of the screed," Knudsen says.
Most paver systems are aftermarket from such suppliers as Topcon, Trimble or MOBA. However, some manufacturers have incorporated AGS into their machines. Volvo's Blaw-Kontrol system, for instance, comes with the valves matched from the factory on pavers, Knudsen says.
Caterpillar's new Cat Grade and Slope system offers ease of use with its 2D system, and factory installation optimizes performance, the company says. It helps to remove irregularities from the surface and to control mat thickness.
The Cat system communicates with the machine's electronic control module (ECM) to automatically calibrate each tow-point valve. That means each cylinder reacts smoothly for performance and mat quality. It can be equipped with sonic or contacting grade sensors and configured with an averaging beam, Cat says.
Overcoming resistance to change
Laubhan worked for a local paving contractor for years before he signed on as paving products manager for Trimble in Colorado. He's seen many contractors resist change.
"There's a lot of contractors out there who say, 'We've always done it this way, and we've always been successful doing it this way,' meaning without technology. And they're not willing to give it a chance and see what it can do for their business."
Too often, he says, contractors want to see machine control technology in action on somebody else's machine before they commit to it, or else they misunderstand.
"There are a lot of people who think that 3D machine control is just a switch that you flip and then everything just runs automatically. That's not the case. Contractors must not only commit to learning the technology, but once you start using construction technology on a jobsite, the way you do business changes along with it. And that requires commitment and some ongoing education."
Laubhan cites the success of a contractor handling a major reconstruction of Reef Runway at Honolulu International Airport in 2013.
The contractor was originally going to reconstruct the runway – 12,000 feet long by 200 feet wide – without machine control technology, but realized soon after starting they wouldn't complete the job on time or within specifications. They would face FAA penalties of $240,000 for each day the work extended past the deadline. So the contractor, Jas. W. Glover Ltd., called a local Sitech dealer and invested in 3D machine control.
"They embraced the technology," Laubhan says. "They trusted it. And they ended up doing really, really well on this particular job."
Turning to dealers for support
Trimble sells aftermarket systems for a variety of paving equipment. Some paving machines come from the factory "Trimble-ready" with certain brackets and sometimes cabling.
PCS900 is Trimble's 3D machine control technology for paving equipment. Its PCS 400 is a 2D machine control for asphalt pavers only.
2D paving is referred to as "ground up" paving, where the screed of an asphalt paver is automatically controlled to place material at certain grade (thickness) and slope over a base layer of material. In 2D paving, the smoothness of the paved surface will be influenced by the subsurface. "We're essentially mimicking the surface that we're paving over," Laubhan says.
With 3D machine control, a 3D design guides the machine to place asphalt at a certain grade and slope at a known position. "We call it a design that is built within Trimble's Business Center – Heavy Civil Edition software, and when we pave to a design, we have a final elevation at which we want our material to be placed," Laubhan says.
3D controls provide a "virtual stringline," so contractors can stop using actual stringline, he says.
"Stringline can be expensive to put down," ranging from $1.50 to $5 a linear foot, he says. "It can be time-consuming to put down, and it can impede truck logistics if trucks have to go around the stringline."
There also can be competitive reasons to invest in the higher-price 3D technology. For example, a contractor might be awarded an interstate resurfacing job requiring 3D technology or 3D machine control.
"I would say within the last five years we have seen an increasing amount of specifications being written, either from federal, state or local agencies, requiring the use of 3D technology on road rehabilitation jobs," he says. "It's a highly competitive business in bid-letting, and having 3D machine control technology gives contractors that competitive edge that may push them over in the bid process."
Seeking help
Contractors starting to use AGS should account for extra time to set up jobsites while they're learning the new system, says Laubhan. "The learning curve can be challenging in the beginning, especially if somebody doesn't have, let's say, a survey background, or they may lack certain knowledge regarding site control. But as you keep using the technology, the difficulties diminish over time."
Operators should rely on a "machine measure-up," according to Trimble. "In order to keep the machine paving according to our design, the contractor uses sophisticated instruments to measure certain dimensions on the machine," Laubhan says. This measure-up should occur every time a machine is moved to and from a jobsite and is also recommended once a month, he says.
They should also seek dealer support for technical issues to avoid costly downtime.
"It's at least $10,000 an hour for a paver to be down on a highway job, minimum," Knudsen says.
That's where dealer support comes in.
"If they ran into a situation on a jobsite where they need technical support right away, their first call is to the Sitech field technician who helped them install and train on a machine," Laubhan says of Trimble customers.