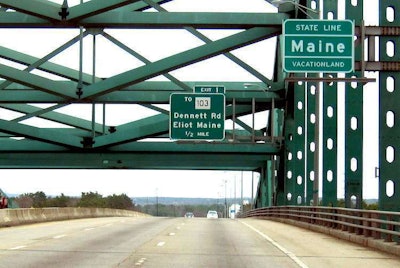 Due to an increase in traffic fatalities, the Maine Department of Transportation has released a new Strategic Highway Safety Plan.
The plan sets out focus areas, such as lane departure, speeding, impaired driving, and recommends strategies to address them.
"Maine's traffic fatalities have been on the rise during the last three years after seeing improvement over the prior decade," MDOT says. "Many other states have seen similar trends that are occurring during this time of an improving economy and lower gas prices. These two factors are resulting in increased travel. Statistically, increased miles traveled generally means an increase in crashes."
Maine sees about 33,000 crashes each year and has five-year average of about 150 crash deaths.
"Crashes are not accidents," said Highway Safety Director Lauren Stewart. "While some may be unintentional they are also unavoidable."
Lane departure – head-on crashes or running off the road – is the state's most frequent fatal crash cause, MDOT says. It represents about 30 percent of total crashes. The plan calls for such actions as installing median cable guardrail on interstates to reduce head-on crashes, adding edge and center-line rumble strips, enhancing speed and distracted driving enforcement in high-accident areas and installing wrong-way warning systems.
The plan also targets these crash causes:
Illegal/unsafe speed – recommendations include enhanced speed enforcement at high-accident areas.
Seat belt usage
Younger drivers
Impaired driving
Distracted driving
Drivers over 65 – Maine is the "oldest" state by media age (44.2) and fourth-oldest by percent of population over 65 (17.7 percent), MDOT says. This age group experiences the most crashes per mile driven than any other age group except teens.
Motorcycles – speed and alcohol are primary factors in crashes, MDOT says. Helmets were not worn by about 72 percent of the riders killed in the state. Motorcycle fatalities have been averaging 20 per year, with two of the last three years being high – 2015 at 32 and 2017 at 27 fatalities.
Winter crashes – December has highest crash activity as drivers adjust to slick road conditions, MDOT says.
Intersection crashes
Commercial trucks and buses
Pedestrians and bicyclists – Pedestrian fatalities that historically were averaging just over 10 per year, have spiked the last three years, MDOT says. Annual totals during 2015 through 2017 are 19, 17 and 20, respectively.
Deer and moose