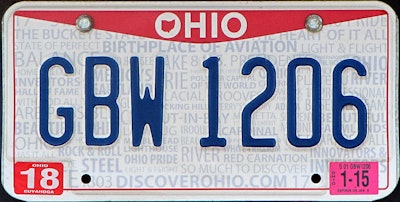 Free rides on electric vehicles and golf carts have passed a trial run and are now allowed throughout Columbus, Ohio.
The city has agreed to allow the micro-transit vehicles to pick up passengers citywide after a trial run in the downtown area was deemed a success, according to Columbus Business First. Drivers get paid by tips. The services' main source of revenue is by company sponsors that advertise on the vehicles.
The city worked with two ride service companies to come up with guidelines that would allow golf carts and electric vehicles of three or four wheels that weigh no more than 3,000 pounds and travel no faster than 20 mph, Business First reports. The vehicles must stay on secondary streets and alleys during rush hours, and the city recommends those routes continue at all times.
Hopper Carts is one of the service providers; it picks up passengers in six-seat electric vehicles. Riders hail a ride through the company's app, similar to other ride-share services.
FreeRide LLC is also offering free rides with its electric golf carts, which riders can hail by waving.
Columbus began the micro-transit trial in May after the Ohio legislature passed a law allowing cities to decide whether to allow the smaller, slower vehicles on streets.