2016 was a deadly year for transportation accidents, for road, rail, water and air, with 2,030 more fatalities than in 2015, according to the National Transportation Safety Board.
In 2016, a total of 39,339 people died in transportation accidents, up from 37,309, the NTSB reports. Of those, 95 percent of the fatalities occurred on highways.
The NTSB also reported:
U.S. roadway deaths increased from 35,485 in 2015 to 37,461 in 2016.
Fatalities in passenger vehicles were up from 12,761 in 2015 to 13,412 in 2016.
Railroad deaths increased from 708 to 733.
Marine deaths increased in 2016, from 688 to 730. Recreational boating accounted for nearly 96 percent of those 730 marine fatalities.
Aviation deaths decreased slightly from 416 in 2015 to 412 in 2016. Nearly 94 percent of aviation fatalities occurred in general aviation accidents. Air taxi fatalities decreased from 27 in 2015 to 19 in 2016.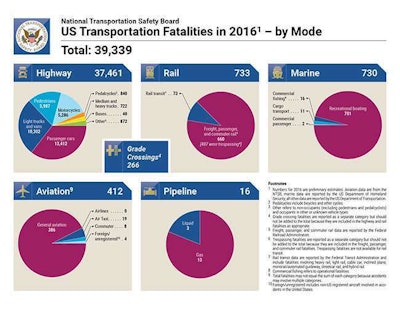 "Unfortunately, we continue to see increases in transportation fatalities," said NTSB Chairman Robert Sumwalt. "We can do more, we must do more, to eliminate the completely preventable accidents that claim so many lives each year."
The NTSB hopes lawmakers and companies will implement NTSB's Most Wanted List of Transportation Safety Improvements seen in the video below. The board is focusing on 10 priorities to prevent transportation fatalities:
Increase implementation of collision avoidance technologies, such as collision warning.
Ensure safe shipment of hazardous materials.
Prevent loss of flight control.
Improve rail transit safety oversight through constant monitoring.
Reduce fatigue-related accidents.
End alcohol and other drug impairment in transportation.
Require medical fitness of operators.
Eliminate distractions while operating a vehicle.
Strengthen occupant protection.
Expand recorder use to help investigators determine what happened in an accident.