The Colorado Department of Transportation (CDOT) used a 9-foot-tall grenade at the launch of its seat belt safety campaign to represent "the dangers that unbuckled passengers post in a crash."
"An unbuckled passenger can be just as deadly" is the message spray painted across its seat-belt-material surface.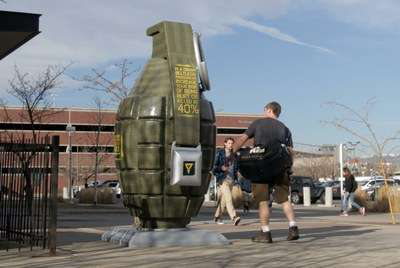 The grenade, which represents the start of CDOT's 2017 Beware of the Beltless campaign, will be displayed in public areas across the Denver metro area for the next few months.
"This sculpture is bigger than life, and so is the issue," says Sam Cole, CDOT safety communications manager. "A grenade may imply danger and violence, but so does every person who rides unsecured in a car. We need to change the way people think about beltless passengers."
The department reports crash survivor Christie Haskell was at the grenade reveal and spoke about the dangers of riding with someone who isn't buckled in. Fifteen years ago she was in a high-speed, side-impact car crash in which she was belted, riding in the back seat with a friend who wasn't. Her friend flew into her, breaking Haskell's collar bone and causing permanent hip, spine and neck damage. She still walks with a limp and needs regular physical therapy.
"I just hope people can stop seeing the person sitting next to them as a friend, a brother, mother or any other loved one," Haskell says. "If someone around you is not wearing a seat belt, they're a dangerous object waiting to hurt you in a crash."
CDOT launched the Beware of the Beltless campaign to "address the seat belt crisis in Colorado." More details on the program are available at beltless.codot.gov.