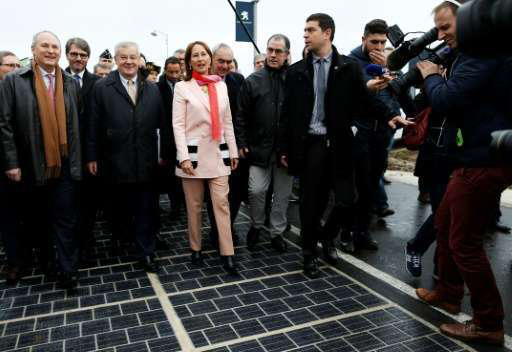 France has opened the world's first "solar highway," a half-mile-long "Wattway" covered with 30,000 square feet of resin-coated solar panels that is connected to the local power grid, according to a report from Phys.org
The country's Environment Minister Segolene Royal was present at the highway's opening. The solar road will provide power to the street lights of Tourouvre in Normandy.
"This new use of solar energy takes advantage of large swaths of road infrastructure already in use… to produce electricity without taking up new real estate," Royal said in a statement. She announced a four-year "plan for the national deployment of solar highways" beginning in western Brittany and southern Marseille.
The French civil engineering firm, Colas, which constructed the roadway, says that France could become energy independent by paving only a fourth of its roads with solar panels. But only time will tell, as sceptics are waiting to see if the panels can withstand the wear and tear of weather and usage.
One drawback is that solar panels work best when angled towards the sun, rather than in a flat position. Plus, the cost of such a system is still up in the air, as each kilowatt-peak generated by the Wattway costs 17 euros, compared with 1.30 euros for a rooftop installation.
However, Colas hopes to make the cost competitive by 2020, noting that a French renewable energy association, SER, indicated that solar energy production costs decreased by 60 percent between 2009 and 2015.
The idea of solar roads is also being considered in Germany, the Netherlands, and the United States.