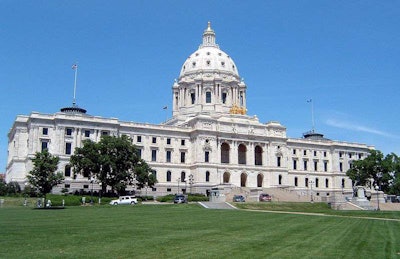 Minnesota Gov. Mark Dayton and state House Republicans have both proposed transportation funding measures this week, but have failed to reach an agreement on either.
Dayton has brought to the table two separate proposals, with one raising the gas tax by 5 cents per gallon and increasing vehicle license tab (the sticker on the license) fees combined with existing revenues from the state's general fund. His second proposal would only increase the tab fees, but still used existing general fund revenues.
The measures would produce roughly $600 million per year for transportation projects.
"Compromise requires us to agree to things we don't agree with," Dayton says. "That is the only way to pass a transportation funding bill this session. Minnesotans everywhere need better highways, roads, bridges, and transit. They are telling us to 'Get it done.' That responsibility now falls upon all 201 legislators. I urge their support to pass this transportation funding bill."
The gas tax increase is a non-starter for Minnesota House Republicans.
Their compromise proposal would reach the same $600 million Dayton proposes, but by a different track. Half of those funds would come from existing revenues under the plan, $200 million would come from trunk highway and general obligation bonds and $100 million would be sourced from changes to the depreciation schedule of tab fees.
"We are prepared to meet the governor in the middle, and agree on a plan that addresses Minnesota's $6 billion need for road and bridge funding over the next decade." says Speaker Kurt Daudt (R-Crown). "We all agree that roads and bridges are priority and let's get it done this session."