The paver and compactor garner most of the credit for quality pavement. Of course, you wouldn't have a road without these star performers, but it also takes top-notch ancillary equipment in supporting roles for all the elements to come together perfectly.
Ancillary equipment, generally taken for granted, often blends into the background and becomes part of the "white noise" of the road building process.
However, these unsung heroes deserve a little attention and a good review of their importance to the paving contractor. It's difficult to rank their importance, and even more so to address them all in a single article, so just a few will be covered here.
Power sweeping
Sweeper trucks don't immediately jump to mind when folks think about paving, but they have become a bigger part of the process and are an important tool for road builders, including those involved in pavement preservation work and new construction.
Contractors need smooth surfaces for quality pavements, and power sweeping is a fast way to clean up at various stages. This can include collecting millings after a milling machine has made its passes, touch up cleaning between paving courses, or even as a finishing touch after the final layer of asphalt has been set down.
Eric Covington, vice president of DECCO Contractors-Paving in Rogers, Arkansas, says his company is considering buying its own sweeper truck because of the added utility of being able to clean up so quickly.
"A sweeper truck is one of the things that's high on my wish list, because we finished up a state highway job south of our office here and we actually had to hire someone to come through and sweep the road," he says. They needed the sweeper truck because after laying a binder lift, surface lift, and a final surface lift on the project, DECCO ran a milling machine down the roadbed to make sure the cross slope was correct. "So we had a lot of very fine particles that, when you hit them with a power broom, they just kept moving". Only a sweeper truck would work.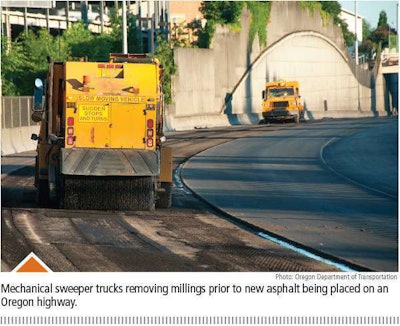 In that sense, power sweeping becomes a quality control measure. Covington says in addition to the final cleanup of a project, overlay work requires collection of particles that can accumulate. "There are a lot of times when you're doing an overlay project where you get those 'crumbs' in the gutter, particularly if it's a long project. You've got to sweep the road. That's exactly what those sweeper trucks are for."
These machines have become silent partners in the paving process, partly because the work is often contracted out, as Covington describes. Sweeping work has become such a big part of the business, that an educational session at this year's World of Asphalt show in Nashville was dedicated to the topic.
Gerry Kesselring, president of Contract Sweepers and Equipment in Columbus, Ohio, was one of the speakers for a session dedicated to effective use of power sweeping equipment. He says work for paving contractors is a significant part of his company's business.
"Over an annual basis, it is approximately 15 percent of our total revenue," Kesselring explains. "There can be parts of the year where it can run as high as 40 percent. Certainly at the end of the season when the asphalt plants are shutting down and everybody is trying to get their final projects done we can probably sneak above that number."
His business is somewhat affected by paving contractors buying their own machines, as some get beyond the "wish list" phase that Covington is in, but Kesselring finds that there is a cyclical nature to it.
"It seems that every year, there are paving contractors deciding they want to buy their own sweepers," he says. "That same year, there are also contractors that bought sweepers that eventually decide against it and start contracting again."
A sweeper is a specialized machine, and is used for only one aspect of a paving project, Kesselring adds, making the "true" cost of ownership, including maintenance and the need for machines at multiple sites simultaneously, a factor paving contractors need to consider.
But either as contracted work or as machinery in the fleet, paving contractors keep demand for the machines constant, according to Greg Heyer, vice president of sales, marketing, customer service and product management for manufacturer Schwarze Industries, located in Huntsville, Alabama.
Heyer says that he hasn't seen much fluctuation in their business over the past three years, but that demand has remained steady, particularly for their mechanical sweeper designed to pick up millings.
"The nice thing is that road construction and the rebuilding of roads, as it relates to state budgets and federal budgets, is a constant," he adds. "There are three places you can always know there's construction going on – an airport, hospital and our roads. There's always something going on, so we've been very happy with the consistent interest in products for paving."
Tack applicators
The importance of smoothness can't be overstated, and power sweeping isn't the only ancillary equipment that helps achieve this. With pavement preservation becoming a bigger part of a contractor's business, tack applicators have assumed greater importance. The membrane these machines place down is vital to quality overlays, both in smoothness and durability.
Whether it's a trackless tack or not, the proper application of the tack material is one of the most important step in overlay or thinlay work, according to Chuck Fuller, president of J.D. Ramming Paving in Austin, Texas.
"If you get the rates wrong with trackless tack or get it too heavy, the asphalt mat you put down on top is prone to slippage after you open it up to traffic," he says. "If you don't put enough tack coat out, it will do the same thing. It's really imperative that you get the right rates down when using a tack coat."
Infrared heaters
For seamless and low-equipment use repairs to fix potholes (and other work that aids pavement smoothness), using infrared heaters to heat up existing asphalt to combine with new or recycled material is a growing trend.
Infrared heaters create no flame and can operate in cold weather, a bonus for contractors in northern states.
Covington finds this equipment to be helpful for small detailed applications in parking lots, rather than just repairs. "It's not a perfect science when you're trying to create flat areas in parking lots for people to walk to the front doors of a business," he says. "There inevitably seems to be a dip that forms and collects water. Using an infrared heater allows you to smooth out an area like that, without having to cut and replace the asphalt. Infrared heaters have become an important part of what we do."
Milling machinery
You can argue that milling machines shouldn't be labeled as ancillary, but the way they can multitask allows them to be included in this category. As Covington mentioned previously, he uses his milling machine to check the grade on his paving work.
"We'll use our milling machine to make sure we've got our cross slope right, even if we've got some joints that are kind of rough due to stopping and starting in different locations within the job," he explains. "We'll just run it over the surface to make sure we've got our cross slope, and honestly, to make sure we don't have a lot of bumps."
Covington also uses it as a recycler. In his area, most of the municipalities or highway departments don't view milled material as something worth saving.
"At a job we're working on now, we milled 8 inches of asphalt off that the municipality was just considering excavation work," he says. "That's huge. It's a resource we're using. We might use some of the RAP as a temporary driveway."
Portable power
Road smoothness aside, every jobsite needs a quality source of power. Probably the most ancillary of all equipment for paving, are portable power solutions.
Jeremy Bailey, air products manager-Americas for Doosan Portable Power in Statesville, North Carolina, is seeing more tools involved in smaller aspects of paving (such as cutting) becoming electric. These, in particular, have three-phase motors.
"For a lot of those types of applications, our generators have three-phase power and single-phase power on board, so you can run the larger three-phase motors," he says. "For example, if you're cutting expansion joints, a lot of those saws are electric. Or, large diamond rope cutting saws used to cut a large bridge in half or cut a couple of pylons – a lot of those items are electric now and require three-phase power."
The benefit of three-phase motors is increased efficiency and less amp draw compared to single-phase motors. "So as more tools go electric, more generation is needed on site, including three-phase power," Bailey says. "All of our gen sets have a voltage selector switch on the back that controls whether you have a single phase, like 208 or 230 voltage, or three phase 480 voltage, which is most common with some of these large three-phase motors. So, you can run an array of different tools on a jobsite with one generator."