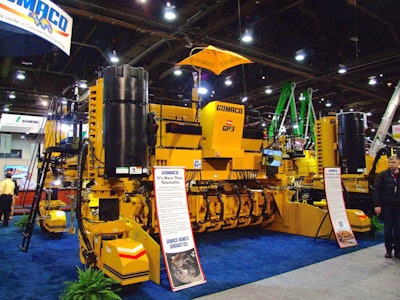 Gomaco introduced is new GP3 slipform paver featuring a series of "smart" technologies to adjust to multiple width changes controlled by the machine's G+ digital control system. It has dubbed the machine "the world's most intelligent paver."
The GP3's Smart Frame Widening system features a roller frame that hydraulically telescopes up to 7 feet on each side to allow for automatic widening of up to 14 feet. The frame is dual telescoping via double parallel, hydraulic telescoping frame members in the front and rear mainframe.
Also on the machine is the Smart Leg Positioning system that features hydraulic rotational drives on the pivot arms of each of the legs. Smart Pivots on the legs send data on the angle of rotation and work with the track rotation sensors to maintain the tracks in the straight-head steering line.
Smart Track Rotation also gives track location and position to the G+ control system on the machine.
The GP3 has an isolated operator's platform and can be accessed with multi-positioning/pivoting ladders that allow for variable degrees of access angles. The ladders also can be placed vertically against the paver for minimum-clearance paving.
Easy transport was worked into the design of the GP3, with the machine being placed in transport mode by driving the legs around to the transport position with the machine's full-steer tracks and hydraulic rotational pivot arms. It has a minimum transport width of 8.5 feet and a minimum transport length of 33.3 feet.