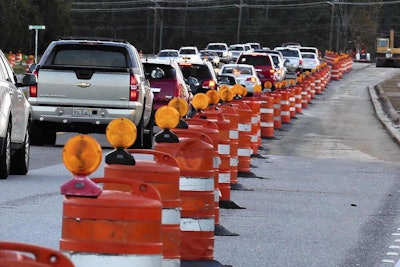 A Wisconsin highway worker was killed in May after he was hit by a vehicle driven by an inattentive driver. But the driver wasn't texting or drunk, he had a dog in his lap and another on his shoulder.
WBAY reported that Derek Stempa was working as a flagger during a county highway project when he was struck by a vehicle and killed. The driver of the vehicle had the two dogs in his vehicle, and Shawano County Sheriff Adam Bieber said the animals distracted the driver and caused Stempa's death.
"This wasn't an accident. This was preventable. And this man's actions caused the death of a father, a husband, a son," Stempa said. "… We felt that this accident or crash could have been prevented. It was a preventable crash. The driver of the vehicle at the time had two dogs in his driving area, one on his lap, one on his shoulder."
Bieber said that having a dog or any kind of animal near a driver is always a bad idea, and is as comparably dangerous as texting and driving. Bieber said Wisconsin lawmakers need to take action to help stop another accident like the one that killed Stempa.
"When an officer sees someone driving down the road with a dog on their lap, a cat, a parrot, you name it, we've seen it all—they can easily correct that behavior," says Bieber. "… It's not for revenue, it's not for anything else. It's just trying to make our roads safer."