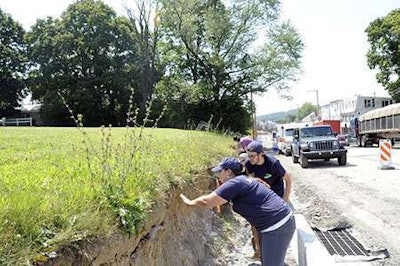 Schuylkill Haven, Pennsylvania, became a forensic anthropology dream site last week when a road construction crew discovered a mass gravesite while working along Route 61.
Dr. Alexandra Klales, from Mercyhurst University's applied forensic sciences department, has been leading a group of students in recovering and studying remains from the site since its discover August 14.
The working theory concludes the site could date from 1918 when roughly 1,600 people in the county died from Spanish influenza, a time when the sheer number of deaths prompted mass burials. Due to people dying so quickly, it wasn't uncommon for people to be buried in a field with no markers. 
Eight students, seven graduate and one undergraduate have removing bone fragments and depositing them at a university lab to be studied later. They estimate the remains are from four separate people, but it will take weeks before full results are available.
"We took only the remains that were exposed on the embankment where the road crew was working, but we saw evidence of much more," Klales explained in a university release. "It is our impression that the site will require a full archaeological excavation. There is no doubt from the condition of the bones that this is an historic site."
According to a report by the Republican Herald, a K-9 unit was brought in to fully scout the area, with the dogs detected area of "about 40 feet of scattered bones."
Schuylkill County Coroner Dr. David Moylan said in the report that the remains would be buried once investigations were completed.
According to WNEP 16, Joan Bachman and her husband bought the property where the grave was discovered in 1997. The couple told the station that they had heard rumors when they bought it that it may have been an old cemetery.
"They told us it possibly could have been a burial ground from many, many years ago, 100 years ago, so evidently it is," Bachman said.
Crews are now collecting the bones and tests will be done to determine if there is any DNA that can match those bones with who they belong to.
Editor's Note: Angela Thomas contributed to this report.