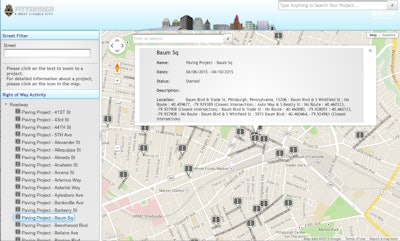 The Pittsburgh Department of Public Works has launched an interactive website and map that shows all the city's current and forecast paving projects for the entire 2015 paving season, which will cover roughly 44 miles.
This is the first time the city has made its plan for paving projects available to the public.
The map offers two boxes for typing in search terms and a running list of alphabetized streets with current projects. After clicking on a project name, a window shows the name of the project, the dates for the work, project status, and latitude and longitude location coordinates. The map also shades the sections of the streets being paved.
The city creates its paving plan by coordinating data from its Pavement Management System, 311 citizen requests, and its Public Works Street Maintenance Division staff. City events, such as the Pittsburgh Marathon, are also taken into account when creating the paving schedules.
A wide variety of projects are part of the program, including: milling and paving of primary, secondary and tertiary streets; maintenance activities such as pothole patching and crack sealing; handicap ramp construction as part of a paving project; and crosswalk striping.