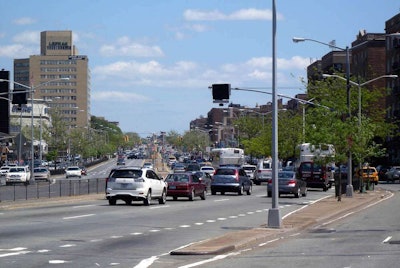 The New York City Department of Transportation (NYCDOT) will rework the 7-mile corridor of Queens Boulevard as part of the $100 million Greet Streets initiative, beginning with a 1.3-mile segment that includes a protected bike lane.
NYCDOT Commissioner Polly Trottenberg recently presented the initial plan to the Queens Community Board 2 Transportation Committee, with an expected start of August 2015.
Known by New Yorkers as the "Boulevard of Death," Queens Boulevard is one of the "most chronically dangerous corridors in New York City," the department says, having 38 traffic fatalities and 448 severe injuries in a 10-year period from 2003 to 2013.
"After decades of crashes, many of them fatal, this corridor has been re-imagined and will be redesigned to become a safer, greener, and more attractive corridor for residents and businesses, suitable to traverse through the World's Borough," Trottenberg said.
In January NYCDOT officials held a public workshop to discuss the safety needs of the corridor. Residents listed speeding and dangerous conditions for cyclists and pedestrians as their top concerns.
More details on the plan are available here.