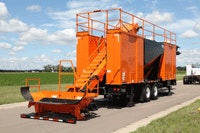 Salina, KS – Bergkamp Inc., based in Salina, KS, will display its new Mobile Stockpile at CONEXPO-CON/AGG 2011 in booth 700 in the Silver Lot. A fully mobile material transfer and storage trailer, the Mobile Stockpile dramatically increases paving time for less cost and eliminates the possibility of truck overweight citations. Truck-mounted micro surfacing pavers can easily connect to the Mobile Stockpile and be fully replenished with aggregate and emulsion. Bergkamp will display two other pieces of equipment that can work with the Mobile Stockpile to complete the slurry seal and/or micro surfacing process. The M310 truck-mounted slurry seal and micro surfacing paver allows operators to easily calibrate the machine, control production rates and simplify maintenance. The Variable Width Spreader Box (VSB) attaches to the M310 and allows contractors to quickly adjust paving widths from as narrow as 8 feet to as wide as 16 feet.
The same number of pavers can do significantly more work in less time because the Mobile Stockpile eliminates the need to drive away from the immediate job site to reach a stockpile location. By using existing standard dump trucks to load the Mobile Stockpile with aggregate and tankers for emulsion, contractors avoid the risk of receiving overweight citations due to overloaded pavers driving to the job site from a stockpile location. Water is replenished via a separate source. The Mobile Stockpile is designed to use a minimal footprint of one lane width of roadway for an entire stockpile operation. Trucks can bring materials to it directly from the supplier, reducing coordination issues associated with finding stockpile locations and simplifying job management while lowering job cost.
Bergkamp's M310 truck-mounted slurry seal and micro surfacing paver uses the EMCAD System to help operators easily calibrate the machine, control production rates and simplify maintenance. It electronically self diagnoses control system or engine problems and displays a simple error code, reducing troubleshooting and repair time. Connecting to the micro surfacing paver, the VSB easily replaces standard spreader boxes and can expand and contract while paving to match roads that fluctuate in width. It is available in 8- to 13-foot (2.4 to 4.0 m), 9- to 14-foot (2.7 to 4.3 m) and 10- to 15-foot (3.0 to 4.6 m) models. Widths up to 16 feet (4.9 m) are available by special order.
Bergkamp Inc. has been manufacturing pavement maintenance equipment since 1980. It offers a full line of truck-mounted, trailer-mounted and continuous slurry seal and micro surfacing pavers and equipment, as well as pothole patching equipment. Bergkamp's headquarters and manufacturing facility is located in Salina, KS, with additional sales offices in Waco, TX, and Arlington, VA. The company works with customers throughout North America and the world. For more information, contact Bergkamp, 3040 Emulsion Drive, Salina, KS 67401; phone 785.825.1375; fax 785.825.4269; e-mail: sales@bergkampinc.com; or visit https://www.bergkampinc.com/.