Hitachi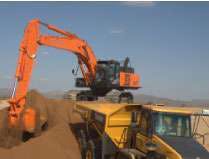 Excavators power up to dig in
Increased productivity is the name of the game for Hitachi's newest large excavators. With the ZX Dash-5 machines, a horsepower boost combines with optimized hydraulics for bigger arm and bucket digging forces – the result being more material moved per gallon of fuel burned, says Hitachi. The second group of Dash-5 machines introduced, the ZX470LC-5, ZX670LC-5 and ZX870LC-5 compete in the 45- to 90-metric-ton range as Tier 4 Interim replacements for the predecessor ZX450LC-3, ZX650LC-3 and ZX850LC-3 models. The cooled exhaust gas recirculation (EGR) technology employed on the Dash-5 excavators uses a diesel oxidation catalyst/diesel particulate filter combo requiring, says Hitachi, no daily attention due to a 4,500-hour service life. Furthermore, a new hydraulically-driven reversible fan for cleaning debris from the radiator screen only runs when needed, thus reducing noise, fuel consumption and operating costs. For the operator's comfort and productivity: the cab has more side-to-side foot room and a larger door with more glass for visibility to the side; a new multifunction monitor has enhanced diagnostic features including rearview camera display; and an updated light package has two cab lights and one additional boom light.

Plate Locks
Anchoring an alternative to cold mix
Road rehab profits slip-sliding away? Here's a solution to keep costs . . . well . . . in their place. A direct replacement for the cold-mix or "cold patch" technique of securing road plates after a sewer line or road bed repair, the reusable Plate Locks system uses concrete anchors to mechanically fasten the plates to the roadway, thus preventing the sliding that can occur with an adhesion product. Manufactured from a recyclable, safety orange, polypropylene thermoplastic, Plate Locks are available in 5-foot lengths and can be cut to fit any size of plate or configuration of plates. They are placed around the perimeter of the steel road plate, and may be left in place should be the plate need to be removed to allow more work to be done. The technology not only reduces costs for agencies and contractors, says Plate Locks, but also cuts down on work zone accidents and contractor liabilities by consistently marking, identifying and securing the steel plates used on repaired roads and highways.
Atlas Copco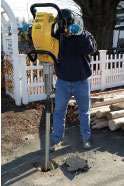 Twice the impact of gas breakers
The Atlas Copco Cobra Pro Drill/Breaker is a self-contained, gas-powered tool without the need for a compressor or hoses. Designed for medium to heavy demolition of material such as concrete and asphalt, the drill/breaker delivers 44 foot-pounds of impact energy at its tool tip – which is said to be almost twice the impact energy of other gas-driven breakers on the market. It also meets the U.S. Environmental Protection Agency (EPA) exhaust emission requirements for smaller non-road engines.
Dynapac
Three choices of asphalt compactors
The Dynapac CC1100, CC1200 and CC1300 articulated asphalt compaction roller models are available in either a dual-steel vibratory drum configuration or in a combi version featuring one vibratory drum and four rubber rear tires. Designed for asphalt compaction in tight spaces, such as streets and pavements in urban areas, the machines are powered by water-cooled Kubota diesel engines. The CC1100 weighs 5,070 pounds and features a 42-inch drum width; the CC1200 weighs 5,360 pounds and has a 47-inch drum; and the larger CC1300 weighs 8,270 pounds and features a 51-inch-wide drum. The CC1300 is suitable for compacting subbases and base courses and can follow a small paver. The CC1100 and CC1200 feature drum diameters of 27 inches, while the CC1300 has a 32-inch drum diameter.
Kenworth

Navigation system customized to load specs
Kenworth NavPlus now comes standard on Kenworth Class 5-8 trucks with all-premium interior trim offerings and on Kenworth diesel-electric hybrid vehicles. The system is available as an optional upgrade with all other Kenworth interior trim packages. The factory-installed, in-dash onboard navigation provides drivers with truck-optimized routes from Garmin, customized to truck and load specifications. The system also offers information about height and weight limits so drivers can steer clear of restricted roads and streets.
Larson Electronics
Mobile wheeled light cart
The HAL-2X400C wheeled light cart from Larson Electronics' Magnalight.com is designed to provide powerful lighting for hazardous locations on an easily deployed mobile platform. Two 4,000-watt metal halide lamps produce a combined total of 72,000 lumens, are mounted to the cart via an adjustable and removable mounting bracket, and are approved for Class 1, Division 2 hazardous locations. The wheeled light cart illuminates up to 50,000 square feet of workspace. Featuring rugged aluminum and stainless-steel construction, an SOOW explosion-proof cord and solid rubber tires, the unit is designed to provide illumination that can be easily moved around the workplace.
Stoltz
User-friendly controller for spreaders
After Stoltz Site Spreaders says it couldn't find a "user-friendly" controller on the market, the company decided to design its own. The Spreader Control Center (SCC) combines all the spreader control functions into one interface. The operator enters the application rate in pounds per square yard and drive, and the spreader automatically adjusts to maintain a constant spread rate. It can also be controlled manually. The spreader is filled pneumatically and uses a patent-pending slide gate to seal the hopper during loading, while the double-reverse, expanded-flow air circulation system drops dust before air exits the hopper into the filter. Level spreading is accomplished by a patent-pending adjustable spreading auger, with no secondary vane feeder needed.
Miller Electric
Dual-operator, diesel-powered welding generator
Miller Electric Mfg.'s Big Blue 450 Duo CST is a dual-operator, diesel-engine-driven welding generator featuring two CST 280 Stick/TIG inverters and 12,000 watts of continuous three-phase power in a single unit. The Tier 4 Interim-compliant machine is powered by Mitsubishi's S4L2 4-cylinder diesel engine, operates at 1,800 rpm, and allows two welders to work off the same machine with two separate welding outputs.
Unstuck
Gives tires immediate traction
Unstuck is a nonchloride-based, powdered mixture that helps tires immediately regain traction on snow and ice. From Unstuck LLC, the mixture can be used as an alternative to other materials such as salt, sand, clay, bleach and ammonia, and is said to work more than twice as well as existing traction-improvement methods.
Pro-Tech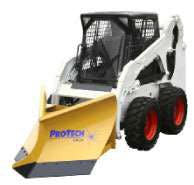 Slices through snow
V-Plow Sno Pushers from Pro-Tech have universal couplers for attaching to both skid steers and tractors. Three models of the plows are available, with 4-, 5- and 6-foot widths. Constructed from 1/2-inch hardened steel for a sturdy cutting edge, they're fully hand-welded to withstand even the toughest operating conditions. The plow's "V" configuration is precisely angled to slice through snow, and the moldboards are rounded for windrowing. The steel cutting edge is designed for optimal ice scraping.