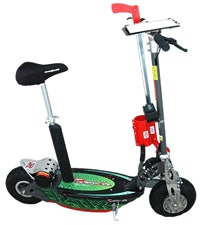 FastMeasure Scooter is great for all types of measuring. Use it to estimate complex projects or laying out paving and patching jobs.
Fold it up and you are ready to go!
The FastMeasure Scooter Package is only $1,450.00, plus shipping and handling. It comes complete with clipboard and paint wand.
With our Fast Measure Scooter package, measuring and laying out jobsites is a breeze. At 15 mph, you can measure and paint parking lot patches in no time!
Fast Measure Scooter folds in half for easy measuring — and easy storage.
With FastMeasure you will have more time to see customers and layout more jobs.