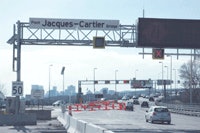 The Jacques Cartier Bridge is a five-lane bridge 2-1/6 miles (3.4 km) in length, spanning the St. Lawrence River between the cities of Montreal and Longueuil, Canada. Over 35.8 million vehicles cross the bridge every year. The bridge's 5 lanes include a reversible center lane that is only open during morning and evening rush hours and alternates directions (northbound or southbound) according to the flow of traffic. The lane is closed to traffic outside of rush hour times.
Over the years it was observed that motorists on the southern approach to the bridge often waited until the last moment to merge right as their lane narrowed when the center lane ahead was closed to northbound traffic. These rapid lanes changes presented risks that the Jacques Cartier and Champlain Bridges Incorporated (JCCBI) wanted to eliminate. After consultation with experts in the field, JCCBI decided to install SwiftGate™ Automated Lane Closure Systems and SwiftSign™ Dynamic Signage Systems to help improve the safety of lane changes on the southern approach to the bridge.
SwiftGate and SwiftSign are remotely activated systems that consist of a set of modules controlled by an RF remote control. Each system module consists of a pivoting gate or sign, a solar panel, a control box and a remote control. The system runs entirely on solar energy, which makes installing or relocating the modules fast and easy. When activated, the gates or signs pivot into position facing traffic quickly and safely so crews don't have to work in live traffic setting barrels or cones. Lane closure can be accomplished in as little as 4 minutes.
SwiftGates and SwiftSigns have proven to be a safer and more efficient alternative to hazardous, time-consuming and costly lane closure operations. The SwiftGate was crashed tested and accepted by the U.S. Federal Highway Administration (FHWA) in 2007 and, since they were installed on the Jacques Cartier Bridge in March 2011, they have improved the safety of reversible lane closures on the southern approach to the bridge. A project for the north approach is currently being studied by JCCBI in collaboration with the City of Montreal.