SPECIAL – Products to be spotlighted at CONEXPO-CON/AGG 2011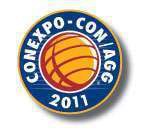 Whether you plan on attending CONEXPO-CON/AGG this March in Las Vegas or just want a sneak peek at what's being showcased at the every-three-year industry extravaganza, we have you covered. Here's a look at some of the equipment and other products that will be displayed. If available, booth numbers marked by (i) are located indoors at the Las Vegas Convention Center; (o) are outdoors.
By Tina Grady Barbaccia
ALLEN ENGINEERING, BOOTH S-645 (o)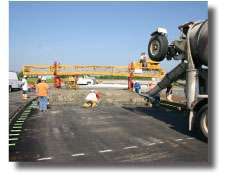 All-hydraulic deck finisher
Allen Engineering has expanded its Allen Concrete Pavers line with the introduction of the Model 6036 Bridge Deck Finisher (BDF). This bridge deck finisher features all-hydraulic controls powering the mainframe and the dual-roller finishing carriage. Standard features include 25-horsepower engines powering the mainframe and the finishing carriage; a 36-inch-deep mainframe; manual crank legs with optional power cranks; dual 8-by-60-inch finishing rollers; a 5-inch hydraulic carriage lift; a hydraulic-controlled roller tamper; and a single drag pan with burlap drag, with an optional dual drag pan. New BDF models 6048B and 4836B, which incorporate several of the same features as the 6036, are also now available.

ASPHALT DRUM MIXERS, BOOTH S-670 (o)
System welcomes additives
Warm-mix capability has been added to the Asphalt Drum Mixers (ADM) Milemaker Series asphalt plants. The dual-drum, mix-design flexible plants – which previously only had hot-mix capability – can now allow chemicals and water to be introduced into the system. The plants, which have the ability to produce in the 160- to 425-tons-per-hour range, are available in portable, relocatable or stationary versions. The plant series use counterflow technology, which operates separate drying and mixing zones to achieve the maximum level of heat transfer and fuel efficiency. Individual components also available for the asphalt plants include cold-feed bins; hot-oil asphalt cement tanks, both horizontal and vertical; direct-fired horizontal cement tanks; portable and stationary bag houses; mineral filler systems; recycled asphalt pavement systems; self-erect and stationary silos; weight and rag conveyors; weigh batchers; and fuel oil tanks. Also on display: RoadBuilder Series asphalt plants are said to offer precise control of mix designs at the lowest cost per ton of any parallel flow asphalt plants in the same class. The series comes in four production sizes: 110, 160, 250 or 350 tons per hour.
ARCTIC SNOW AND ICE CONTROL PRODUCTS
Plows respond to pavement changes
The Sectional Sno-Plow product division of Arctic Snow and Ice Control Products offers a line of HD Plows compatible with a variety of large pieces of equipment, including wheel loaders, backhoes, skid steers, tractors and telescopic handlers. Constructed of durable steel, the patented moldboard design features individual 32-inch-wide sections, equipped with independent, spring-loaded trip edges. Each section of moldboard responds to changes in the pavement and moves up and down independently, allowing the plow to contour to uneven surfaces and reduce the amount of snow left behind to re-plow. Designed for equipment weighing more than 18,000 pounds, the HD plows are available in six sizes to accommodate a variety of equipment.
BRIDGESTONE, BOOTH N-2501 (i)
Tire minimizes sidewall damage
The new Firestone DuraForce MH bias tire is being supplied exclusively for JLG Industries, an Oshkosh company. The DuraForce MH has been designed for the JLG, Lull and SkyTrak brands of telehandlers owned by JLG. The low-profile tire design helps to minimize possible sidewall damage, while the unique tread pattern and low-ground bearing pressure optimizes performance in rough terrain and increases tire life from 100 to 300 percent, according to Firestone tire manufacturer Bridgestone.
BERGKAMP, BOOTH S-700 (o)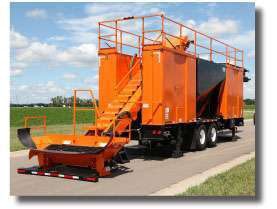 Increase paving time for less
The Mobile Stockpile from Bergkamp is a fully mobile material-transfer and storage trailer that is said to increase paving time for less cost and to eliminate the possibility of truck overweight citations. Truck-mounted microsurfacing pavers can easily connect to the storage trailers and be fully replenished with aggregate and emulsion. Also on display: The M310 truck-mounted slurry seal and microsurfacing paver and the Variable-Width Spreader Box (VSB), which attaches to the M310 and allows contractors to quickly adjust paving widths from as narrow as 8 feet to as wide as 16 feet.
CARMIX USA, BOOTH S-11056 (i)
Versatile plants for job variety
Carmix USA's line of 4×4 self-contained, mobile batching plant mixers and off-road dumpers, manufactured by Metalgalante, can load and weigh the materials to be processed – water included – and produce concrete directly to the working site. The plants are said to be versatile enough for jobs from residential and industrial to road maintenance, dams, tunnels and precast. The units can climb more than 30 percent gradient fully loaded, making them particularly useful in inaccessible areas.
BMG GREEN, BOOTH C-4855 (i)
New environmentally focused division
Fort Wayne, Ind.-based BMG, formerly the Barlow Marketing Group, will officially launch its new BMG Green sustainable and environmentally focused division at CONEXPO-CON/AGG 2011. The sales development, marketing and research firm will also celebrate its 20th anniversary working exclusively with manufacturers, associations and technology companies serving the global construction, infrastructure, mining, aggregate, environmental and recycling markets.
BRIDGESTONE, BOOTH N-2501 (i)
Radial reduces vibration levels
Bridgestone Americas Off Road Tire, a division of Bridgestone Americas Tire Operations, has expanded its line of specially designed loader tires in North America. The V-Steel J-Traction (VJT) radial off-road tire, now available in two new sizes, 17.5R25 and 29.5R25, features a computer-optimized center block that is said to minimize vibration levels. Reduced friction between the tire's center blocks and the ground improves wear resistance and helps improve tire life, according to the manufacturer. The VJT has a specialized self-cleaning tread design and non-directional tread pattern to maximize tread volume and traction in all directions. The VJT is now available in the following five sizes: 17.5R25, 20.5R25, 23.5R25, 26.5R25 and 29.5R25.
CEATTACHMENTS, BOOTH H-30401 (i)
Planer provides smooth cut
The EDGE Cold Planer from CEAttachments works with standard-flow and high-flow skid-steer loaders. The attachment is said to achieve a smooth, precise cut quickly, and restore asphalt and concrete surfaces to the correct level. It features a self-leveling, top-pivot design for even cutting. Low-flow planers feature manual tilt/depth control while high-flow models feature electro-hydraulic tilt/depth control. A water kit for dust minimization and optional pick sets designed for concrete and asphalt are available. Sizes are available from 12 to 40 inches.
CLEARSPAN, BOOTH H-30303 (i)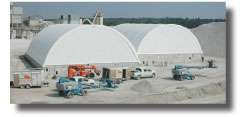 Custom-engineered storage buildings
ClearSpan Hercules Truss Arch Buildings feature natural light and spacious interiors without interior support posts. The natural light is said to stop moisture build-up, which prevents salt or sand from caking, and allows loaders and spreaders to handle the salt and sand easily. With minimal foundation requirements, the structures can be permanent or temporary, and are easy to relocate, according to the manufacturer. The truss buildings are custom-engineered to fit the requirements of a specific location, such as snow and wind loads or foundation type. The structures can be built to any length and up to 300 feet wide.
CATERPILLAR, BOOTHS G-130 (o), N-1913 (i)
Several engine, torque options
Caterpillar will showcase the CT660, its new vocational truck, for the first time at CONEXPO-CON/AGG. The heavy-duty Vocational Day Cab Trucks feature a range of engine ratings and torque capability options. Some engine options include a Cat CT11 engine with ratings from 330 to 390 bhp, a Cat CT13 with ratings from 410 to 475 bhp and, coming in 2012, a Cat CT15 with ratings from 435 to 550 bhp. Other options for the vocational truck include a Cat CX31 torque-converter-style automatic transmission, with three standard locations for rear-power take-off drive positions. Also display: More than a dozen Cat machines will debut at the show, including the G-Series 775 off-highway truck, a new telematics solution, the K-Series midsize wheel loaders and the redesigned H-Series 627 wheel-tractor-scraper. A South Hall exhibit, S-16329, features engines from Caterpillar Industrial Power Systems and Perkins. The Caterpillar OEM Solutions display, featuring components for OEM applications, is at located at S-16343.
Booth event: Live and video presentations, including Mike Rowe of the Dirty Jobs television show, will be held at the North Hall booth.
DOOSAN INFRACORE CE, BOOTH G-100 (o)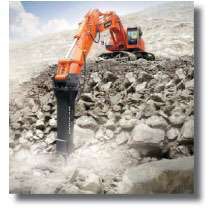 Nitrogen gas-assisted breaker
Doosan says its DXB170H hydraulic breaker features nitrogen gas-assisted operation for improved efficiency. The 3,572-pound breaker delivers up to 600 blows per minute and is designed for use with excavators in the 18- to 28-metric-ton weight range. Other features include a patented hydraulic dampening system said to prevent blank fire damage, an energy recovery system that increases strike power using energy generated by piston rebound, and a patented main valve design that reduces hydraulic pressure peaks, according to the company.