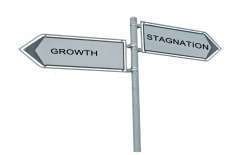 The U.S. economy may be sluggish, but Oct. 26 from the U.S. Bureau of Economic Analysis reported 2.0 percent growth in real gross domestic product for the third quarter of 2012.
This means that U.S. economic growth is slow but not slowing, according to Kathy Bostjancic, director for macroeconomic analysis, The Conference Board. Bostjancic says it is difficult for the domestic economy "to grow any more robustly, given the relatively soft pace of consumption and investment, weak sentiment among businesses, continued austerity for state and local government spending, weak exports, and the looming 'fiscal cliff.'"
(For the blog post, The nation is 'hurling itself toward a fiscal cliff,' says ABC chief economist, go to http://www.betterroads.com/the-nation-is-hurling-itself-toward-a-fiscal-cliff-says-abc-chief-economist/. For the analysis, Elections and a 'fiscal cliff' loom ahead, but residential recovery continues, from George H. Reddin, a principal in FMI's Investment Banking practice, in the "Data Mining" section in our sister publication, Aggregates Manager, go to http://www.aggman.com/elections-and-a-fiscal-cliff-loom-ahead-but-residential-recovery-continues/.
Bostjancic notes that "negative headwinds from Europe and Asia" appear to be more persistent than previously thought. However, amidst the negativity, Bostjancic thinks housing is finally turning into a positive factor after a long decline.
Nevertheless, she adds, the U.S. remains poised to at least partially fall off the "fiscal cliff," citing politicians as responsible for this. Bostjancic predicts that politicians are likely to let the payroll tax cut and points out that extended unemployment benefits expire at the end of this year. "This should depress economic growth to below 2 percent in the first half of 2013," she says.  "Assuming the economy does not go off a deeper cliff, however, activity could resume to more than 2.5 percent growth in the second half of the year. For that to happen, wage growth would have to pick up and give some much-needed impetus for consumption."