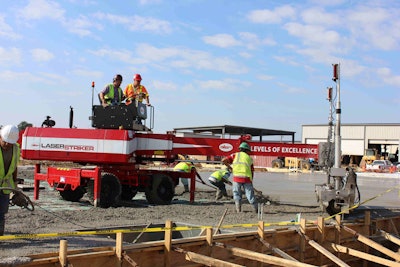 Allen Engineering has introduced its LS175 LaserStriker laser guided screed.
Engineered to meet or exceed "F" number requirements for floor levelness, the LS175 screeds 192 square feet per pass using a 12-foot-wide screeding head and a 16.5-foot telescopic boom.
A heavy-duty auger plow powered by a powerful hydraulic system helps maintain the grade for a smooth finish.
The LS175 LaserStriker delivers continuous elevation monitoring at a rate of 10 times per second.
A 59-horsepower Kubota turbo-charged diesel engine powers the machine.
Other features include 360-degree upper frame rotation, a Topcon Laser System with two independently mounted laser receivers, a 35-gallon fuel capacity and 16-foot boom reach.
Allen will display the LS175 LaserStriker at booth #030720 at World of Concrete in Las Vegas in January.