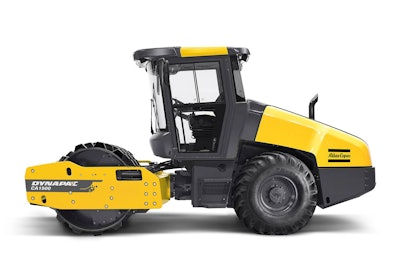 Atlas Copco's CA1300 and CA1500 single-drum soil rollers for high maneuverability and visibility on parking lot, road, utility pipe and street projects feature the manufacturer's exclusive Active Bouncing Control (ABC), a cross-mounted Tier 4 Interim or Tier 4 Final engine and steel blades that improve compaction, safety and visibility.
The engines on the CA1300 and CA1500 are cross-mounted. The rollers' hydraulic pumps are also in line with the engine and because the engines are cross-mounted rather than parallel to the frame, they provide optimal weight distribution and contribute to the units' minimal footprint.
The CA1300 features a Tier 4 Final, 75-horsepower Kubota diesel engine, and the CA1500 uses a Tier IV Interim, 100-horsepower Cummins diesel engine. Both have top-mounted, cool air intakes with side vents that combine with the ejector exhaust outlet to minimize engine noise and prevent dust from being sucked into the engine compartment, which is a common occurrence on soil compaction sites.
The rollers' high static linear loads make them useful for compacting a range of materials from clay to rock fill. The CA1300 features a static linear load of 73 pounds per linear inch (PLI), and the CA1500 has 112 PLI. The compaction power is transferred through the rollers' drums to efficiently compact soil with minimal passes.