Includes special coverage from the World of Asphalt/Agg1 (WOA), Mid-America Trucking Show (MATS) and the NTEA Work Truck Show (NTEA) trade shows, plus a sneak peak at products at the American Public Works Association Snow Conference (APWA).
Compiled by Tina Grady Barbaccia

Talbert Manufacturing
Best-in-class lift capacity
Talbert Manufacturing's new 50CC/RP Hybrid Trailer combines the attributes of a close couple lowbed design with a roller paver model, offering a longer loading incline and best-in-class lift capacity, according to the manufacturer. With a
deck length of 26 feet, there is space for full construction fleet loads. A specially designed slope from the bottom up creates a more moderate incline over a greater distance, about one-third of the deck length. Finish height at the front of the main beams is 8 3/4 inches. The trailer features a bolt-on ramp for a more gradual load angle at the rear; 15 degrees rather than the standard 35-degree angle. The 50-ton capacity 50CC/RP offers a deck width of 8 feet, 6 inches and a low deck height of 20 inches.

BOMAG
Better reversible plate compaction
Designed to deliver higher operating efficiency for midsize and heavy reversible plate compactors, BOMAG's Economizer feature provides real-time soil stiffness results. The new technology helps operators minimize the number of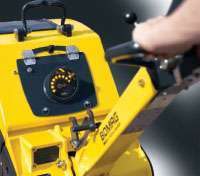 passes to complete compaction, according to BOMAG. Instead of relying on spot-checking with quality-control devices to achieve proper material densities, the Economizer uses an acceleration sensor to measure the stiffness of the target material across the entire compacted area. The data gathered by the sensor is instantly displayed via a simple series of 10 yellow LED lights, allowing the operator to react quickly and effectively to changing soil conditions.
ASPHALT DRUM MIXERS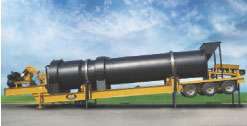 Single-drum counterflow technology
Asphalt Drum Mixers' (ADM) Excalibur Series asphalt plants with single-drum counterflow technology offer high efficiency and a compact design for contractors with low to medium production needs. The asphalt plants produce 100 to 425 tons per hour, claim the longest aggregate drying and mixing times in the industry and can process high percentages of RAP, according to ADM. There are separate drying and mixing zones to achieve the maximum level of heat transfer and fuel efficiency. ADM designed the system to reintroduce residual gases to the drum's combustion zone. The plants are available in portable or stationary versions.
MATS
East Manufacturing
East Manufacturing's all-aluminum Drop Deck Trailer with a low-slung 36-inch deck height means there is less need for partial dismantling of the load to get it below the 13-foot, 6-inch maximum legal height, giving haulers more flexibility in terms of the loads that can be hauled. An added advantage of the 36 inch drop deck height is its lower center of gravity. This provides the trailer with improved stability, which increases in value the more unusual the size and shape of the load.
WIRTGEN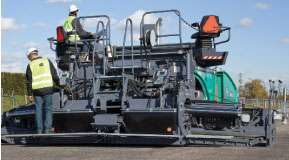 Many screed profiles operated independently
Wirtgen America's new screed for the Vögele Vision series of pavers, the front-mount Vögele VF 600 extending screed, is equipped with vibration across the full paving width up to 25 feet, 6 inches. Its basic width is 10 feet, extendable hydraulically up to 19 feet, 6 inches. With bolt-on extensions fitted, it builds up to the maximum width of 25 feet, 6 inches. Its ErgoPlus feature gives the screed operator fingertip control for asphalt placement, says the company. The VF 600 screed is capable of many profiles with crown, sloping extensions and berm, each independently operated. Berm widths are available in 12 inches, 18 inches and 24 inches.
ATLAS COPCO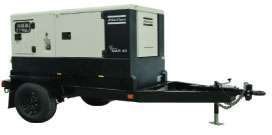 Delivering prime power
Atlas Copco's QAS 45 portable generator features a Kubota Tier 4 Interim diesel engine and a Leroy Somer, LSA model, series alternator, enabling it to deliver 35 kW of prime power. The generator includes a standard multi-voltage selector switch and QC1002 digital control system. All key operating functions can be managed without opening the canopy. A 70-gallon fuel tank allows a 24-hour run time.
WEST PORT LIGHT DUTY

Bi-Fuel Super Duty pickups
West Port Light Duty will begin producing bi-fuel Ford F-250 and F-350 Super Duty pickup trucks this month. John Howell, senior marketing director, says the trucks never leave Ford's inventory control system and are not subject to re-entry fees or other charges typically associated with upfitting commercial vehicles. The models range is 200 to 350 miles when operating on CNG, depending on tank size. Overall vehicle range extends to more than 600 miles when the 32-gallon gasoline tank is factored into the equation. When the CNG tank runs out, the engine immediately and seamlessly switches to gasoline. Once the CNG is refilled, the truck reverts to natural gas the next time the truck is started.
BOMAG
Rotor geometry reduces vibration
BOMAG's new milling machines, the BM500/15 and the BM600/15, feature rotor geometry to reduce vibration, increase service life and ease drum replacement. They are powered by 125-horsepower Deutz liquid-cooled diesel engines. The BM500/15 offers a standard cutting width of 19.7 inches, and the BM600/15 delivers a 23.6-inch cutting width. Both models feature a maximum cutting depth of 8.3 inches, and a milling radius of less than 10 inches. The new rotor geometry of the BM500/15 and BM600/15 features optimally arranged teeth and a thick shell for uniform, low-vibration and very precise cutting. The edge cutter is also designed to produce a smooth edge with minimum damage.
NAVMAN Wireless
Calculates, delivers fastest/shortest routes
Navman Wireless has added a route optimization capability to its OnlineAVL2 fleet tracking software through integration with Dashfly's web-based mapping service. The new option is said to save time, mileage and fuel by enabling dispatchers to calculate the fastest and shortest driving routes for up to 25 stops with one click and then electronically transmitting the resulting routing information to Navman Wireless' M-Nav in-vehicle terminals for driver notification and turn-by-turn navigation.
GEHL
Updated skid steers
Gehl's newly updated 4640E and 5240E Power2 skid-steer loaders are equipped with a new 68-horsepower Yanmar Tier 4 Interim diesel engine that produces up to 180 foot-pounds of torque. The skid-steer loaders measure only 59.7 inches with the optional offset tire package. These skid steers can lift 2,050 pounds more than 121 inches when equipped with 12.00 tires and optional counterweight.
Mitsubishi Fuso Truck of America
Medium-duty maintenance parts program
Mitsubishi Fuso Truck of America has developed the Diamond Value Parts Program, a new repair and maintenance parts program for its medium-duty commercial trucks. All parts that are part of the program are intended for use after expiration of the FUSO warranty. Every product in the program has been vetted by Mitsubishi Fuso.
HENDERSON PRODUCTS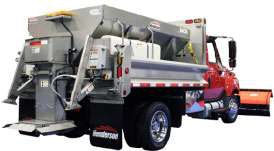 Electric control for snow and ice truck equipment
Henderson's CHARGE Clean-Power Series offers a new electric control for medium-duty snow and ice truck equipment in Classes 3 to 7. The CHARGE harnesses electricity and employs a CAN bus system to manage the entire snow and ice control package. The bumper-to-bumper management covers the snow plow, dump body, lighting, sand/salt spreader, spinner and pre-wet system. The system incorporates proportional ground speed control into the spreader's material output functions, a feature, Henderson says, is commonly absent on spreaders using electric controls.
XL Specialized trailers
Hauling heavy construction equipment
XL Specialized Trailers' XL 120 Low-Profile (Scraper) Hydraulic Detachable Gooseneck and the 110 Cheater Hydraulic Detachable Gooseneck are built especially for the construction market. The 52-foot-long, 60-ton 120 HDG is rated with 120,000-pound overall capacity and 120,000-pound in 10 feet concentrated. The 12-foot, low-profile neck, open boom trough and 32-degree slope of rear transition makes loading scrapers and trucks of all sizes an efficient process. The XL110 Cheater Hydraulic Detachable Gooseneck offers nine pin locations, resulting in a range of swing clearance from 84 to 116 inches. Multiple ride heights allow drivers to adjust according to load and location.
WIRTGEN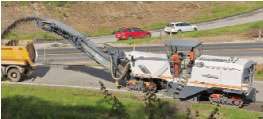 Produces up to 900 tons per hour
The Wirtgen W 220 cold mill provides the milling width and depth of the heavier W 250 – Wirtgen's biggest and most powerful mill – but with a lower weight that enables it to more easily meet legal weight load limits. The W 220 – like the W 250 – will mill up to 14 inches deep at a nominal milling width of 87 inches. Its power plant provides 766 horsepower has an operating weight of 80,160 pounds. The W 220 can produce up to 900 tons per hour of reclaimed asphalt pavement (RAP). The standard milling width of the W 220 can be extended with additional milling drum units for working widths of 8.2, 10.2, 11.5, or 12.5 feet, up to a maximum of 14.4 feet.
GOMACO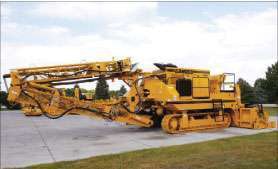 Multi-application handling machine
The GOMACO 9500 material handling machine is now available with an optional hydraulically-folding rear conveyor belt for improved transportability. The new option allows the conveyor to remain attached to the 9500 during shipping. The 9500's shipping length with the new folding rear conveyor is 41.8 feet. Shipping height is 11.5 feet. The switch to control the hydraulically-folding rear conveyor can be placed at different locations on the back of the machine. The belt width is still 36 inches, and the rear conveyor maintains its 160-degree swing with hydraulic height adjustment up to 12 feet. It has a 34.7-foot-long reach during machine operation, with a conveyor belt speed of 504 feet per minute, allowing fast placing of concrete or removal of trimmed material.
BOMAG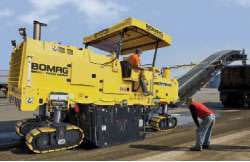 Centrally mounted cutting drum
BOMAG's BM1300/30-2 cold planer milling machine features a centrally mounted cutting drum that allows precise milling next to walls and curbs. It offers a standard cutting width of 51.2 inches and is powered by a 275-horsepower Caterpillar diesel, offering high-horsepower-per-cutting-tooth delivery ratio for maximum productivity and efficiency. The direct mechanical drive design of the cutting drum provides maximum power transfer while reducing any external losses. It can mill depths up to 12.6 inches.
TALBERT MANUFACTURING
Aluminum pullouts add two feet on each side
Talbert Manufacturing's 35-Ton SRG Double Drop Trailer's aluminum pullouts add a full two feet on each side. The 35-Ton SRG accommodates wider equipment and at lower heights. Consisting of a 48-foot overall length, the tandem-axle trailer has a 29-foot deck length with a rated 35 tons distributed, and 30 tons in each 10 feet of deck length. The 8-foot, 6-inch deck width has the ability to extend to 12 feet, 6 inches with the optional aluminum pullouts. The trailer also offers an ultra-low 18-inch loaded deck height with a 6-inch ground clearance.
WORKSAVER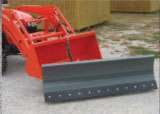 Clamp-on snow blades
Worksaver's new clamp-on snow blades are ideal for compact tractors with non-quick attach buckets, says the company. The snow blades are designed to install easily and to remove with a chain and turnbuckle system. The attaching frame slides over the bucket cutting edge and the frame extends under the bucket bottom. This snow blade features a 3/8- by 6-inch cutting edge of 1044 steel and the ability to angle right or left. The clamp-on snow blade is available in 5- and 6-foot models.
KLEEMANN
High-performance secondary, tertiary crushing
The new Kleemann Mobicone MCO 11 cone crusher has a 44-inch-diameter cone crusher as its core, providing high-performance secondary or tertiary crushing. Its 15.7-cubic-yard feed hopper is designed for direct feed from a primary crusher, or by wheel loader. The MCO 11 can accept feed of up to 10 by 10 inches in size. Its 15.7-cubic-yard feed hopper is designed for direct feed from a primary crusher, or by wheel loader.
JOHN DEERE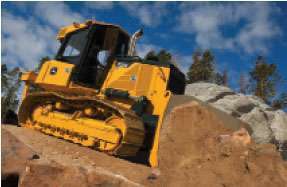 Four new K-Series crawler dozers
John Deere is adding four models to the K-Series crawler dozer line. The 550K, 650K, 700K and 750K crawler dozers build off 850K that launched in 2011. A John Deere PowerTech 6.8-L (700K, 750K) or 4.5-L (550K, 650K) Tier 4 Interim diesel engine provides an increase in horsepower from the previous J-Series, along with increases in overall tractor weight. The horsepower ranges include: 85 horsepower (550K), 101 horsepower (650K), 125 horsepower (700K), and 155 to 165 horsepower (750K) at 1,800 rpm. The John Deere Tier 4 Interim engine also offers operation on slopes up to 45 degrees while maintaining adequate oil flow to machine systems. A reversing feature is standard for the 750K and optional for the 550K, 650K and 700K to blow out debris.
DOOSAN PORTABLE POWER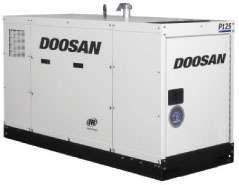 Four new K-Series crawler dozers
Doosan Portable Power's P125WJDU utility mount air compressor with auxiliary drive option includes a separate gear set on the airend. This feature allows operators to use the auxiliary drive for hydraulics and other resources with the simple flip of a switch. The P125WJDU is ideal for paint striping applications. The air compressor has a free-air delivery of 125 cfm, a rated operating pressure of 100 psig and is powered by a Tier 4 Interim-compliant John Deere 49-horsepower diesel engine.
BOMAG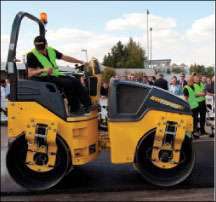 Dual travel levers and large drum diameter
The BOMAG BW138AD-5 tandem vibratory roller features dual travel levers, a foldable ROPS and larger drum diameter for enhanced asphalt compaction performance. The BW138AD-5 delivers a maximum centrifugal force of 10,800 pounds. With a working width of 54.3 inches, the roller includes larger 35.4-inch diameter drums and provides dual-vibration frequencies of 3,480 or 2,820 vpm. The roller's bolt-on oscillating and articulating joint improves maneuverability by allowing the rear drum to follow the same path as the front drum while turning.
JCB
Improved digging geometry
JCB offers eight new small-platform skid-steer and compact track loader models: the 135, 155, 175, 190 and 205 skid steers and the 150T, 190T and 205T compact track loaders. The 135, 155 and 150T machines feature radial lift, which offers improved digging geometry for heavy loading applications. Because they contain fewer pins and bushings, radial lift machines perform well in high-cycle applications such as waste, recycling and demolition. The 175, 190, 205, 190T and 205T models offer vertical lift, which provides maximum reach at full height.
VOLVO CONSTRUCTION EQUIPMENT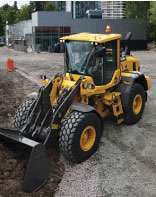 Torque Parallel linkage
Volvo Construction Equipment's new L60G, L70G and L90G wheel loaders are the latest from the manufacturer in the13- to 17-ton class. All are fitted with a Volvo six-liter, six-cylinder turbocharged V-ACT (Volvo Advanced Combustion Technology) off-highway diesel. Producing between 161 and 173 horsepower, depending on the model, the three units provide high torque at low engine speeds. The series' wheel loaders loader arms now feature the patented Torque Parallel (TP) linkage to provide excellent breakout and lifting forces and to allow then to remain perfectly parallel throughout the lifting range – ensuring exceptional load stability, according to Volvo.
Parker HANNIFIN
Handling high-pressure applications
Parker Hannifin's mechanically bonded M8 E-Z Flex Hybrid Hose with low-volumetric expansion is designed to incorporate thermoplastic and rubber hose constructions. E-Z Flex Hose offers a two-wire braid construction with four-spiral wire hose performance, allowing a tighter bend radius and easier handling. The bend radius for a 5/8-inch I.D. E-Z flex hose is 4 inches, allowing for a tighter bend and making it lighter and easier to route.
Bobcat
Revamped Bobcat's 2012 lineup of light construction products include the following:
Air compressors: Three portable air compressor units. Two single-stage compressor pump models, including a 5-gallon unit offering 4.1 cfm at 100 psi and an 8-gallon model delivering 13.1 cfm at 100 psi, make up the smaller units. Rounding out the air compressor line is an 8-gallon two-stage unit that provides 17.2 cfm at 175 psi.
Generators: Three generators with outputs of 3,000, 4,000 and 7,500 watts. All models feature low-oil shutdown, large low-tone mufflers to reduce noise and USDA/USFS-approved spark arrestors.
Vibratory plate compactors: Engineered with high centrifugal forces, the BC15, BC19 and BC22 single-direction vibratory plate. A water sprinkler system allows compaction of hot mix asphalt. These units range in operating weight from 150 pounds to 220 pounds.
Upright rammers: Two upright rammer models, the BR55 and BR72. Impact applied by a durable steel-plated wooden foot, 9 inches by 13 inches on the BR55 and 11 inches by 13 inches on the BR72. The BR55 impact force is 2,600 pounds, the BR72 3,400 pounds.
Weir Minerals
Powerhouse of hose options
Weir Minerals Linatex is offering new hose options that include a preformed hose bend, a wear indicator system, and an enhanced cut end hose system. The rubber tube absorbs the energy from moving slurry and returns to its original form while dampening vibrations. The new wear indicator system provides 24-hour hose monitoring. Unlike other wear indication systems that only check for breaks in the wire, the Linatex wear indicator system senses a change in resistance as measured by ohms, making it an early-warning system for hoses.
Peterbilt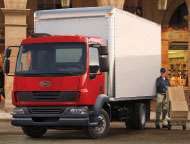 High-volume payload
Peterbilt Motors' new design enhancements for the medium duty Models 210 and 220 cabovers in the Class 6 and Class 7 markets. They are available in several wheelbases. The Peterbilt 210 is available as a Class 6 straight truck with GVW rated at 26,000 pounds. It features a tight turning radius for ultimate maneuverability in difficult, confined spaces, and a wrap-around windshield, extra-large side windows and heated mirrors for exceptional visibility. Standard with an automatic transmission and air suspension, the model 210 is recommended for bodies between 18 to 26 feet long and can be configured for a non-CDL operation.
GUTTERGLOVE
Heated gutter guard melts icicles
Gutterglove's IceBreaker, a heated gutter guard for deicing is designed to melt icicles, snow loads and ice dams on a gutter system, as well as filter out leaves, pine needles and roof sand grit. The design incorporates a self-regulating heat cable that installs in a built in channel in the gutter guard itself. When turned on, it radiates heat for melting ice in the gutter and on itself and prevents icicles and snow loads from forming on the gutter. The eco-friendly product only requires only one heat cable to do the job.