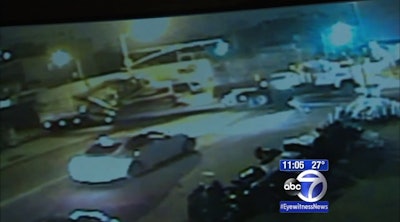 It's not quite a scene out of Ocean's Eleven, but the burglars who recently drove away with an excavator, truck and trailer worth $250,000 were pretty bold to do it all during the evening—and in one moment, in sight of the police.
According to a report from WABC TV in New York City, the thieves arrived to the equipment yard of contractor Ari Steinman around 8:30 p.m. last Tuesday, cut through a fence and drove off in a Mack truck with a trailer and JCB excavator in tow.
Every bit of the heist was caught on video thanks to a security camera nearby. To get through the fence, the thieves had to grind through a padlock. Sparks flew as traffic passed through the busy intersection just feet away.
At one point a police officer even passed by as the thieves were gaining access to the yard.
In what appears to be an attempt at distracting the employees of the printing shop directly across the street from the equipment yard (and possibly giving themselves an alibi in the process) some of the thieves walked into the shop asked for a price quote before stopping traffic to leave with the equipment minutes later.
The whole operation took less than five minutes. You can watch the security footage of the heist below.
[youtube u9UJ50y77D4 nolink]