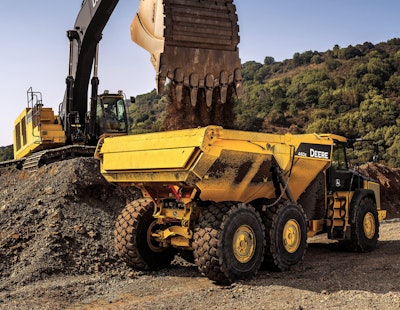 Due to the passing of December's U.S. tax reform bill, John Deere reports that it posted a loss of $535.1 million during its first quarter, which ended January 28.
Without changes brought on by the tax reform bill, Deere says the quarter would have brought income of $430 million on sales $6.9 billion. However, Deere says two things associated with that bill turned things around on the company:
The provisional income tax expense includes a write-down of net deferred tax assets of $715.6 million, reflecting a reduction in the U.S. corporate tax rate from 35 percent to 21 percent.
The cost of a mandatory repatriation of previously untaxed non-U.S. earnings of $261.6 million. This repatriation charge was partially offset by a reduction in the annual effective tax rate and other adjustments of $12.1 million.
"Although net income for the quarter and full year are being affected by the upfront costs of U.S. tax reform legislation, we believe the changes will reduce the company's overall tax rate and be beneficial in the future," Deere chairman and CEO Samuel R. Allen said in a statement.
The company's first quarter sales of $6.9 billion represented a 23-percent increase over the same period last year, while equipment sales increased 27 percent to $6 billion. Equipment sales were favorably augmented during the quarter thanks to a 5-percent boost from Deere's completion of its acquisition of road equipment maker Wirtgen Group.
Agriculture & Turf division equipment sales increased 18 percent during the quarter with operating profit increasing 78 percent to $387 million. Construction & Forestry equipment sales increased 57 percent during Q1 with Wirtgen adding 23 percent. Construction & Forestry operating profit fell 13.5 percent during the quarter to $32 million.
Equipment operations reported $419 million in operating profit for the quarter, up 64 percent over the same quarter in 2017. However, due to a provisional income tax expense and adjustments of $1.243 billion related to tax reform, the division reported a net loss of $964 million for the quarter. These quarterly results also include a $92 million operating loss for Wirtgen "attributable to the unfavorable effects of purchase accounting and acquisition costs."
Deere equipment sales in the U.S. and Canada increased 24 percent while net sales elsewhere in the world were up 33 percent.
2018 outlook is positive
"Deere has continued to experience strong increases in demand for its products as conditions in key markets show further improvement," said Allen. "Sales gains for the quarter, however, were moderated by bottlenecks in the supply chain and logistical delays in shipping products to our dealers. In line with strengthening conditions, we have raised our sales and adjusted-earnings forecasts for 2018 and have confidence we will be able to fulfill the needs of our customers over the course of the year."
Deere says it projects equipment sales to increase by 29 percent in 2018 with a 30- to 40-percent gain expected in the second quarter. Wirtgen is expected to add about 12 percent to Deere's net sales for 2018 and about 16 percent during Q2. The company expects net income to reach $2.1 billion in 2018, which includes another $750 million charge related to tax reform.
The company expects ag equipment sales to increase 15 percent in 2018, while construction sales are expected to increase over 2017 by 80 percent. Wirtgen is expected to boost construction equipment sales by 56 percent. Deere says it expects "continued improvement in demand" on the construction side "driven by higher housing starts in the U.S., increased activity in the oil and gas sector, and economic growth worldwide."
"…Deere is in good position to capitalize on the strengthening conditions we see in the world's agricultural and construction equipment markets. This underscores our success developing a more durable business model while making steady investments in new products, businesses, markets and technologies," Allen said. "As a result of these steps, Deere has become more profitable across the business cycle than in the past. We remain confident in the company's present direction and believe Deere is on track to continue delivering significant value to customers and investors in the future."