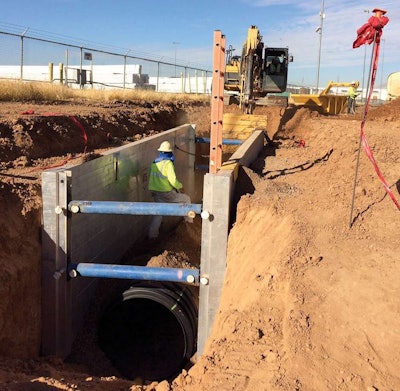 Sloping. Shoring. Shielding. The basics of trench protection pre-date OSHA's 1989 regulation, yet many contractors still act like they're a mystery.
"You read trench collapse investigations, and it always starts with 'we didn't know,'" says Mitch Post, training and technical services manager for Mabey, a trench shoring manufacturer based in Elkridge, Maryland. "No one goes into work thinking, 'Hey, I'm going to do something that gets someone killed today.'"
"Our biggest competitor is noncompliance," says Dave Nicoli with distributor D. P. Nicoli, Tualatin, Oregon. "They think, 'This will just take a minute.' They think they don't want to waste time putting a trench box in."
The 5-foot myth
There's also a misconception that contractors don't have to worry about any trench less than 5 feet deep. "OSHA leaves it up to the judgment of the competent person," Post says. "If you get someone hurt or killed in a 3-foot trench, you're every bit as liable as if that trench was 30 feet deep."
"People become complacent because they think the 5-foot level is the safety level, and it's absolutely not," says Alex Roberts, president of S.A.S. Contracting, Bethel, Connecticut."If that trench is only 4 feet deep and you bend over to make your connection, the trench can still collapse on top of you.""You have to be competent to understand the conditions out there," says Victor Serrambana Jr., president of VMS Construction, Vernon, Connecticut. "It really is an experience and training thing."

Serrambana trains his crews to stop digging if the excavator bucket starts bringing up a different type of soil. "Just keep looking at what's happening with the soil," he says. "It will tell you pretty quickly if it's changing. Many times it's because you're coming into a previous excavation, and it may be an unmarked utility. It also may call for a different style of shoring."
What's underneath
"Before you open up a trench, nature is in balance. As soon as you cut into it, the earth wants to heal itself by caving in," explains David Dow, senior vice president with TrenchSafety and Supply, an Underground Safety Equipment company based in Memphis, Tennessee. "Except in stable rock – which is almost nonexistent – every trench is going to collapse at some point, sometimes quickly, sometimes not."

OSHA regs classify soils as stable rock, then Type A, B and C, in descending order of stability. "The best way to remember C is 'crap,'" Dow states bluntly.

Complicating matters is the fact that what's underneath can be a mix of soil types. Which is the reason why no trench, no matter how routine to a contractor, is the same. The type of soil changes, depth changes and terrain changes. Weather – especially rain – complicates things further. You need to take all of this into account when choosing a trench protection system.
You choose

"Protecting your workers from a cave-in is not a matter of which system is better or worse, but which one fits your situation the best," says Mike Ross, national training coordinator, Efficiency Production. For example, many utility crossings occur in the first 5 feet of a trench. "Dealing with all the things around you is a huge driving force in what works best," he says.

Contractors in a certain area may prefer systems based on tradition. "But it might be the absolute wrong system based on the job conditions," Post says.

Trench protection systems are engineered by factoring in varying weights of soil, hydrostatic loads and the surcharge loads from items such as nearby traffic and equipment, according to Ross. In addition to protecting workers, these systems must give contractors enough room to do their job.

Job conditions also change, affecting trench protection systems. If ground water is present in a trench, for example, Post says it can literally more than double the amount of pressure placed on a trench protection system.
From sales to rental
"Trench protection used to be a sales business, then rent-to-sale, and now it's mostly rental," says Wendell Wood, senior trainer, National Trench Safety, Houston, Texas.

"It was a small niche," says Tom Hartman, senior vice president, strategic alliances, National Trench Safety. "Only in the largest cities would you have maybe one dedicated company. Now you have multiple competitors in multiple locations. Now everybody wants in."

Market estimates now put the trench protection industry at between $1.1 billion to $1.5 billion in annual sales. The largest player in trench safety rentals is United Rentals, which bought NES Trench Safety in 2002. According to the firm's 2017 annual report, rental revenues from the company's combined trench, power and pump segments grew 27.5 percent between 2016 and 2017, to a total of $988 million. (Note: Hurricane-related revenues on the power and pump side affect these results.)

As elsewhere in construction equipment, trench protection has consolidated, leading to a blending of who makes what and who distributes what.

"The lines have blurred between manufacturers and distributors," Hartman says. "Both are looking at the opportunity to expand their equipment."

The industry has also responded to compact construction equipment's popularity by creating lighter shoring systems. "For smaller jobs, the industry is moving from using steel to using aluminum," explains Joe Turner, director of engineering, National Trench Safety. Another change: several trench rental firms now offer in-house capabilities for engineered shoring services, required for trenches 20 feet and over.

And consulting capabilities have come to the forefront. "Consultation is a huge piece of what we do," says Jeremy Neill, region product development manager, United Rentals Trench Safety. The company says its experts keep up with local, state and federal regulatory requirements, helping contractors stay compliant.

Know what's unique about a specific trench
OSHA mandates that every company have a designated competent person to manage safety. When it comes to trenches, this person must be trained and know the OSHA standards, know how to identify soil, know the correct use of protective systems and be authorized to stop work when hazards arise.

"It's the responsibility of the competent person to make sure they know what is unique about a specific trench and that they have the right solution," Dow says.

Many entities offer competent-person training, including OSHA, trench protection manufacturers, rental companies and safety consultants. United Rentals, for example, has nine full-time trainers, and each of its 85 branch locations has trainers plus online training capabilities. "Workforce development is a hot button issue in construction, and people are being hired who just don't know what the OSHA standards are, because they're new to the industry," Neill says.

Ross estimates that in 2017 his company trained close to 1,500 students. "It comes down to the competent person and how well they identify hazards," Ross says. "If something changes on the jobsite, they fix it. It's a continual process, and they need to have a firm understanding about what it entails."

Plan, plan, plan
Trench protection comes into the strategy of how you bid a job, Serrambana says.

Also part of planning: walking the job to be bid, making a note of soil conditions and visible signs and utilities. "This is what we do; we're not caught off guard," he explains.

Experience also teaches that what's bid is not what's installed, says Roberts. "It may morph from a 4-foot hole and you hit water, and you might have to dig a much wider hole in order to keep it from caving in. Plan for it in the contract so you can cover yourself."

Some contractors may automatically default to classifying all soils as Type C, but that may be unnecessary. "It will exclude a lot of systems, and it will usually require the most expensive system," Hartman says. "They may be using a 10,000-pound trench box – and the resulting equipment needed to lift it – rather than a system that weighs much less."
A fail-proof system?


"Used properly, there are no examples of a trench protection system failing," Dow says, but there are plenty of examples of failure due to improper use, from missing components to over-stressed protection systems.

"If you have a trench box that's not large enough for your excavation, or strong enough, or installed improperly, then you don't have a trench box," Post says.

Trench protection systems use manufacturers' tabulated data, which outline, among other things, the capacity of structural elements and depth ratings. This "tab data," as it's referred to, appears on a plate or sticker attached to the system. It can also be given to the jobsite competent person in paper form or be accessible via phone app. Whatever form, the tab data for each system must be on the jobsite and accessible.

The contractor's competent person is responsible for matching the soil with the type of protection used. Soil changes in an excavation, but the tab data on a trench protection system – for example, an allowable depth rating of 10 feet in Type C soil – does not.

The bottom line, experts say, is that operating safely is critical to your company's future. "When you're protecting your people, you're also protecting your company and your reputation," Wood says.

Serrambana has worked in the trenches since he was a teenager. "When I look back at what I saw then, the industry as a whole has improved by leaps and bounds in protecting workers," he says, adding: "If another $3,000 in shoring rental on a multimillion dollar job will make or break your job, you really shouldn't be on that job."
---