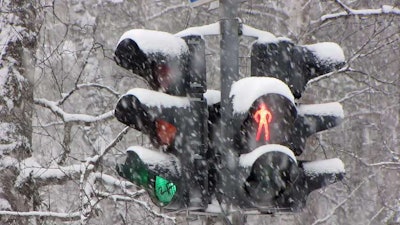 The Minnesota Department of Transportation has found that its efforts to save costs on converting traffic signals to LED bulbs can have safety consequences.
Though the lights bring a 90 percent cost savings, they don't emit as much heat as the former incandescent bulbs. That has left many of the lights covered in snow, preventing drivers from seeing the signals, reports WCCO in Minneapolis.
MnDOT has replaced most of the state's 1,400 signals with LED bulbs, WCCO reports. In some areas of St. Louis County, signals were covered for 24 to 48 hours during a Fall snow. Incandescent bulbs would have melted the snow in a few hours, the station says.
If drivers come to an intersection with snow-covered signals, they should treat it the same as a four-way stop, MnDOT says.