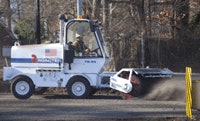 Roadtec, Inc. introduces a new 83 hp (62 kW) self-propelled broom. This is a new product line for the company and its first foray into compact construction equipment. Roadtec's traditional product line of highway-class asphalt finishers and cold planers are known for rugged construction, and this new product keeps with this tradition. The FB-85 broom features 14,000 lbs (6,350 kg) of construction grade axle capacity, which is twice the strength of competing models.
A unique telescoping broom head allows the operator to switch brooms quickly without the need to change out broom heads. Moreover, the exclusive Roadtec side shift feature prevents tire wear when sweeping next to a curb. The broom drive motor can be mounted on the right or left side of the broom head allowing flush-sweeping on the right or the left side. The machine features sealed brakes to keep dust and debris out.
Access to all maintenance items is made simpler by means of a fully raisable hood. A CAT® 3.4L, 4 cylinder, 83 HP (62 kW) diesel engine powers the broom. Broom core sizes of 8-5'8" or 10" diameter (22 and 25 cm) can be used. The infinitely variable width broom head can rotate 33° to either side. Broom widths between 72" (183 cm) and 96" (244 cm) can be used.
The FB-85 broom has a pressurized cab with filtered A/C and heat. A steering wheel controls tractor steering. An ergonomic control/joy stick with single hand access handles most of the broom functions, including broom down pressure adjustment and broom rotation speed.
The new Roadtec broom will be manufactured in the company's Riverside facility located in Chattanooga, Tennessee.