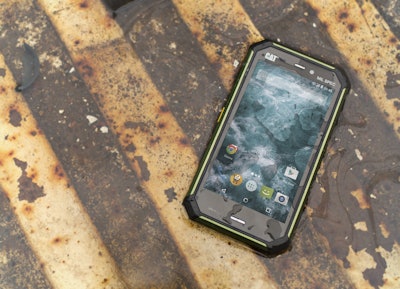 Caterpillar has launched its latest smartphone, an update to the thinner S50 model dubbed the S50c.
Inside and out, this rugged phone is largely the same. Same processor, same 4.7-inch screen, same long battery life, same thin-yet-rugged body as the S50 which launched in 2014.
There are really only two differences between the S50c and S50. But they're big differences that will likely make many more people who hadn't before, especially those in the trades, give the phone serious consideration:
1) The S50c works on Verizon's network.
2) And it's the first Cat smartphone with dedicated Push To Talk.
A Verizon exclusive
When we talked to Bullitt Group senior product manager Pete Cunningham back in August about his firm's design of the S50, the third in a now four-device lineup of Caterpillar smartphones, he said the phone was in many ways an answer to the complaints of many users—including some of Cat's own—that rugged phones just aren't "very elegantly designed," when compared to iPhones and Android devices like those from Samsung.
"Many guys told us 'If I go out in the evening to the bar, or out on a date, I'm not going to be putting this big rugged phone on the bar,'" he said.
It's an engineering dilemma to be sure. There's give and take. Though the S50 is certainly more elegant than its predecessor the B15Q, with a thinner body and sharper screen, the phone isn't quite as rugged. Both water and drop resistance specifications decreased on the S50 with the thinner design.
That's why the company released its latest phone, the S40 in August. It's a comfortable middle ground, with a 4.7-inch screen like the S50, a big battery but with the same rugged spec as the B15. As such, it's not quite as thick as the B15Q, but not quite as thin as the S50.
And though the partnership between Bullitt and Cat has resulted in an impressive, evolving display of smartphone design based heavily on customer feedback, there' s been one very important piece missing in order to really boost mindshare of the brand: a deal with a major U.S. carrier. That is, until today.
In the works since 2014, Cat Phones and Verizon have announced an exclusive partnership in launching the S50c.
This is the first Cat device that will work on Verizon's 4G LTE network as all prior releases have been unlocked devices that can be used on GSM networks like AT&T and T-Mobile. In fact, the S50c will only work on Verizon's network.
"We obviously wanted to go with Verizon due to their strong name and how they're known for having the most reliable network," said Theresa Cangialosi, vice president and General Manager for North America at Bullitt. "The tagline on Cat products is 'Built For It.' You want to always be able to rely on your device and being with the most reliable network makes that possible. So I think we really complement each other."
But why did Cat and Verizon decide on the S50c instead of the more rugged S40 as their exclusive device? Cangialosi says Verizon was very interested in having a thinner rugged phone.
"They told us that most of their customers see rugged phones and don't like how rubbery they are, how much thicker they are and that they don't think they really look like a presentable cell phone," Cangialosi said. "Something people would put on a desk and be proud to carry around."
The carrier not only found the device thin enough, they called the phone's design "sexy," Cangialosi said.
"A sexy rugged phone is not easy to do," she said. "We were very happy when we heard that. Plus, it features a larger screen than they have on current and past rugged devices."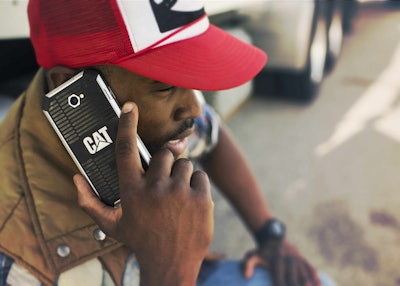 Features and specs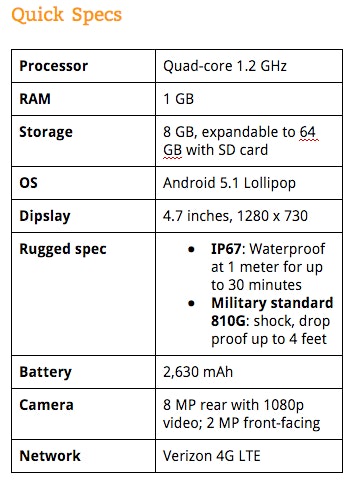 Beyond thinness, Cangialosi said Verizon also wanted the S50c to support Push To Talk.
There have been smartphone apps that simulate this feature for years. But none of them are as quick or convenient as having a dedicated button on the side of the phone, as the S50c does, instantly putting you in contact with your whole crew.
This is also the first Cat Phone to come in two colors: silver and green. (Both look great, but I have to admit I'm partial to the green, seen in the photo at the top of the post.)
Like the S40, the S50c can be used when the screen is wet and with gloves.
The device is powered by a 1.2 GHz quad-core processor with 1GB of RAM. It comes with 8GB of onboard storage, expandable to 64GB using a microSD card. It runs Android 5.1 Lollipop.
The rear camera is 8 MP and shoots 1080p video. A 2 MP on the front of the devices allows for video chat.
Battery, and rugged specs can be found in the chart above.
Availability
So, where can you buy the phone? Unfortunately it's not yet as simple as walking into a Verizon Wireless store, but there are a few options.
For starters, the phone is for sale for $399.99 on the Cat Phones website. As with all the online options you simply buy the phone and activate upon receiving shipment.
The phone is also available on Amazon and will soon be available on the Home Depot website.
Of course, if you want to make a business order, you can call your Verizon Wireless rep. And in the future, Cat hopes to start selling the devices at its equipment dealerships. "Within the next six months we want to start going out to some of the Caterpillar dealers to have them sell the devices internally," Cangialosi said.