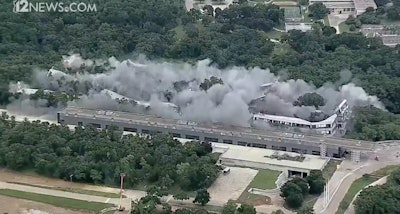 Employees of American Airlines recently gathered atop the roof of a parking garage to say goodbye to six buildings that formed the company's headquarters since the 1980s.
According to a report from the Dallas Morning News, crews demolished the buildings with the help of 380 pounds of explosives. You can see the implosion from multiple angles in the videos below. The second video, from KPNX TV, shows the implosion and what remained once the dust settled from a chopper.
The six buildings were brought down in preparation for the construction of a new $350 million HQ for the airline.