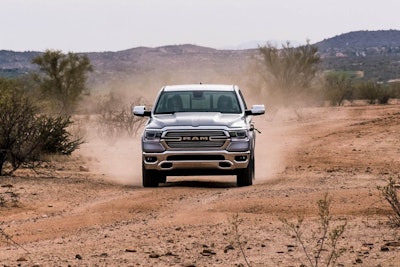 Volvo CE now 3D printing spare parts, prototype components
Volvo Construction Equipment says it has begun using additive manufacturing techniques not only as part of the company's process for prototyping new machines, but also to supply customers with replacement parts.
Known more commonly as 3D printing, additive manufacturing creates three dimensional objects by slowly placing layers of a molten metal or liquefied plastic in a pattern or shape laid out by the printer's software. The printer software creates its initial renderings for the 3D-printed parts using drawings from the Volvo archives, 3D models and product information. Printing a part can take as little as one week, Volvo says.
To read more, click here.
---
Manitowoc intros GMK6300L-1 all-terrain crane with increased capacity at higher boom lengths
Manitowoc has introduced the successor to a Grove crane the company said was a "worldwide hit."
The new Grove GMK6300L-1 is a 300-tonne (350 U.S. tons) all-terrain crane that will replace the GMK6300L, which was launched in 2010. Manitowoc says several improvements have been made to the crane's structural strength giving this new Dash-1 model better load charts than the previous model.
Specifically, the GMK6300L-1 boasts increased capacity when working at height, with 16 percent more capacity when boom length is placed between 70 and 80 meters (226-263 feet).
To read more, click here.
---
Mack's new MHD more flexible with several enhancements; Granite gets added ride height
Mack Trucks has introduced several new enhancements to its Mack Granite Medium Heavy Duty (MHD) model, including a new horsepower rating, a new under-frame exhaust system, a shorter wheelbase 4×2 configuration and a tractor configuration.
Equipped with the Cummins L9 engine, the MHD now features a lower option of 330 horsepower and up to 1,000 ft.-lb. of torque.
A new under-frame exhaust offers more options for body adaptation, potentially unlocking new applications like tankers, flatbeds, box trucks, cranes and certain municipal applications.
To read more, click here.
---
Volvo debuts updated L90H loader with up to 20% greater fuel efficiency
Volvo Construction Equipment debuted its updated L90H wheel loader at the recent World of Asphalt show in Houston. The L90H 2.0 offers improved fuel efficiency, productivity, serviceability and greater ease of use.
"The L90H wheel loader features updates to its transmission and torque converter that shorten cycle times and provide up to 20 percent greater fuel efficiency," says Chris Connolly, product manager, wheel loaders. "It also has a higher tipping load and dump height."
In February, Volvo launched the H-Series 2.0 updates on four larger modelsof wheel loaders: the L150H, L180H, L220H and L260H.
To read more, click here.
---
First Drive review: 2019 Ram 1500 a luxurious reimagining of a classic American workhorse
To call the 2019 Ram 1500 "important" to the Ram Truck brand would be a vast understatement. For the first time in 25 years, this is a completely new Ram pickup both inside and out, and it arrives at a time where trucks and SUVs have never been more popular.
For much of the history of not just Ram Truck brand, but the Ram pickup itself, the term "truck buyer" meant something completely different than it does now. The days where the jolts of a stiff-riding pickup could be brushed aside by the benefits of a big engine, loads of torque and ample bed space are long gone. The people have fallen in love with SUVs. And many SUVs now ride like sedans. So why should their pickups, which are increasingly more expensive than their SUVs, be any different?
That being said, no one's suggesting that the big engines, cargo space and durability pickup trucks aspire to be known for be sacrificed for this car-like feel. And this creates quite the puzzle for automakers as they attempt to continue cashing in on the current truck craze.
With the 2019 1500, Ram thinks it has cracked the code. Gone is the iconic "Big Rig" exterior styling that since 1994 has been synonymous with the brand, and in its place is a new, more modern design with long lines and fewer rounded corners. Head of the Ram Truck brand Jim Morrison said the design of the 2019 pickups is heavily influenced by customer feedback. And the brand is very comfortable using the terms "luxury" and "pickup" hand in hand.
To read our full in-depth drive impressions, click here.