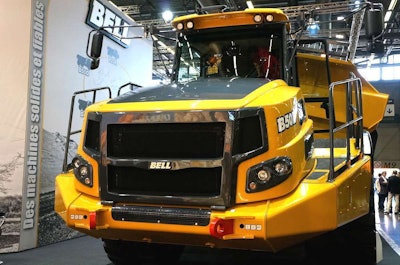 [imagebrowser id=239]
Bell Equipment is giving Intermat attendees a sneak preview of its 50-ton B50E, which it anticipates will reach North America next year.
When it arrives, it will replace the B50D , which came to the U.S in 2014. Since then, Bell Equipment has introduced its smaller B25E and B30E here, and offers these machines in America along with the B35D and the B40D.
The 50-tonner on display at Intermat has a 12.8-liter Tier 4 Final Mercedes-Benz engine and 7-speed Allison transmission, and is designed for large scale infrastructure work and mining. (Further specifications details will have to wait until the official truck launch.)
In changes from the D Series, the transmission retarder was removed to make space for the incline 6 engine, and the transmission changed from six speeds to seven. "Moving to more speeds gives us better performance," Pisanie says, giving an improvement in the ratio steps between gears.
Pisanie says the B50E will give Bell the ability to offer a lower-cost-per-ton machine. "That has been our No. 1 driver, to help our customers make more money," he says. But the B50D also had impressive results, Pisanie says. "One of our biggest strengths has been our fuel consumption," he says, citing a test in the United States where the B50D showed 25 percent-plus less fuel consumption than other machines.
The B50E will also feature the cab developed for the smaller B25E and B30E, which is common throughout the E Series machines. It includes a color monitor, rear camera and automotive style mouse navigation of the display screen.
"The B50D introduction in the United States has been successful," says Tristan Du Pisanie, Bell project leader, engineering. In press materials released at the show, Neville Paynter, Bell Equipment North America president, echoed this sentiment, saying the company's timing "could not have been better," citing future opportunities in the road building and construction sectors. "Our plan is to expand our geographical footprint in 2015 by appointing another 10 dealers to bring our network to a total of 27 dealers in the US."