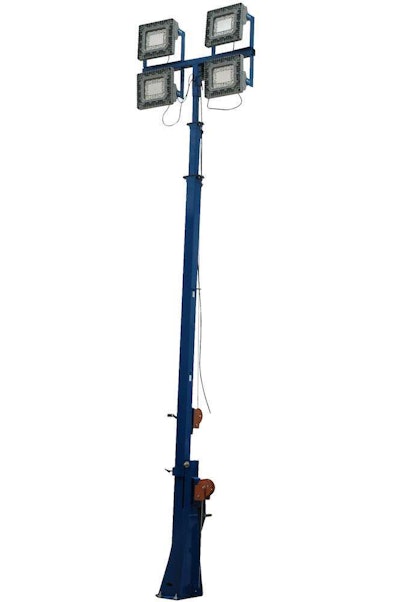 Illuminate up to 2 ½ acres of jobsite area with the LM-25-3S-EPL-4X150RT-RB foldover light mast from Larson Electronics, which produces 48,000 lumens of light.
The 25-foot, three-stage telescoping light mast has a boom that allows for 360 degrees of rotation and collapses to just 12 feet. The mast head, which is removable, is affixed with four Class 1 Division 1 150-watt LED light fixtures, and the mast is elevated from its folding position with 1,000-pound hand winches fitted with 3/16-inch cable.
The lights are suitable for wet areas and are explosion proof. Each fixture produces 12,000 lumens of high intensity light while drawing just 150 watts at 1.25 amps from a 120-volt electrical system.
The unit's tower features an optional 5-15 straight blade plug, 5-20 twist lock plug or a 6-20 twist lock plug. A 44-inch-wide, 2- by 2- by ¼-inch-thick mounting plate is attached to the upper section of the mast, providing a stable platform for the four light fixtures.
The light mast can be mounted to trailers or other surfaces by a ¼-inch-thick 15- by 13-inch base plate which has been predrilled to accept six 9/16-inch anchor bolts. The tower, which can support and lift 150 pounds of weight, weighs approximately 450 pounds.