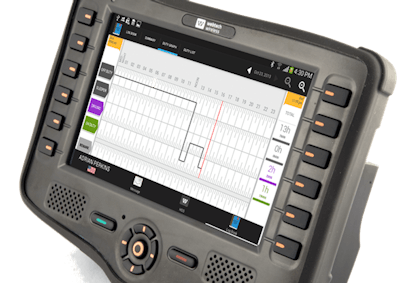 Webtech Wireless, a provider of vehicle fleet location-based services (LBS) and telematics technology, announced that its Webtech Driver Center software application is now available on ruggedized MDT3500 In-Cab devices.
Webtech Driver Center benefits from Android smart device technology, making the MDT3500 touchscreen natural to use, the company says.
Touchscreen technology is rapidly becoming the industry standard in both consumer and commercial devices as people find natural hand gestures, such as swiping and pinching on the screen, easy to learn and to use.
Webtech Driver Center is the new mobile fleet management application built on the Android platform that is now available on the MDT3500.
"The MDT3500 is feature rich in itself, and putting it together with Webtech Driver Center on an Android operating system puts our customers ahead of the technology curve," said Scott Edmonds, president and CEO of Webtech Wireless. "Early adoption means better driver logs, accurate vehicle inspection reports, and improved productivity, all of which results in saving money and improving profits for our customers."