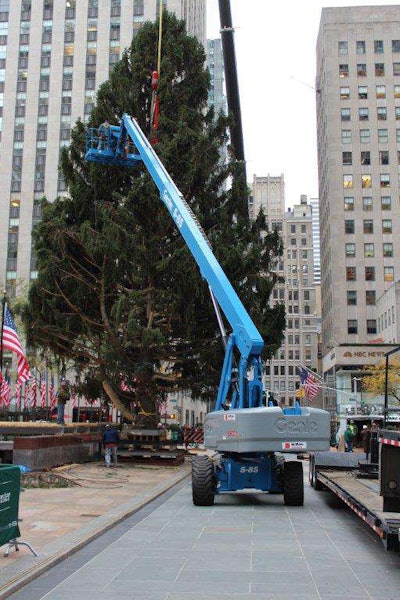 Just more than two weeks ago, the world-famous Rockefeller Christmas tree was installed in New York City. And while that might seem a little early for putting up a Christmas tree to some of you, we'll wager you don't need a crane and a boom lift to do the job at home.
A Genie S-85 telescopic boom lift was used during the installation of the tree to help the crane guide it into place in the plaza. The lift was supplied by Tri Lift Inc. out of New Haven, Connecticut.
It was a pretty long day for the driver hauling the boom lift. To arrive by 5:30 a.m. the day of the installation, the S-85 was loaded up and left the Tri Lift rental yard at 3:30 a.m. The driver then waited for the crews to finish installing the tree before heading back to Connecticut that night.
Tri Lift rental manager Mike Degennaro said Tri Lift was honored to be a part of the installation, noting that several people in the office kept a live stream of the installation open in the corner of their computers on the day the tree was put up.
"It was certainly not one of our standard rentals…," Degennaro said.