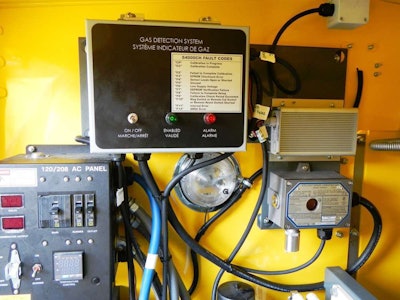 Boost safety when working around combustible vapors with Wacker Neuson's combustible gas detection system, available for the HI 770XHD GD indirect-fired heater.
The system works by continuously sampling the air around the heater for hydrocarbons. If even trace amounts are detected, the burner shuts down to avoid the possibility of igniting the vapor, after first reducing surface temperatures.
The blower runs to cool the heat exchanger until 20 percent of the lower explosive level is reached, at which point a positive air shutdown disables the generator, safely shutting down the entire heater. If the hydrocarbon source does not reach 20 percent, the burner restarts automatically once combustible gas levels drop below 10 percent LEL—the level at which concentration can cause an explosion.
The HI 770HXD GD indirect-fired heater is designed for continuous operation at extreme temperatures, including ambient temperatures reaching -60 degrees Fahrenheit. The heater provides up to 770,000 BTU/hour heater input and 4,000-cfm airflow.