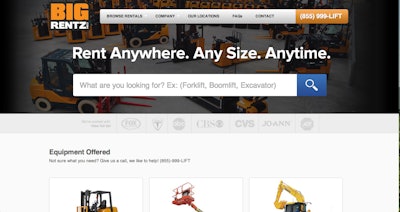 The largest online provider of construction rental equipment has added earthmoving equipment to its offering.
BigRentz.com's new Dirt Division offers rentals of backhoes, excavators, graders, dozers, skid-steers and wheel loaders. That adds to the company's initial offering of boom lifts, forklifts, scissor lifts and reach forklifts.
BigRentz says its team of experienced professionals is available to answer any questions customers might have as well as guiding them to find the right machine.
"Our new Dirt Division places team members with this specific construction industry expertise at our service center to help our clients get the best equipment for their situation and provide the information they need to get the job done right," said Stephen Jesson, Executive Vice President of BigRentz.com.
BigRentz combines a web storefront with a network of thousands of dealers locations.