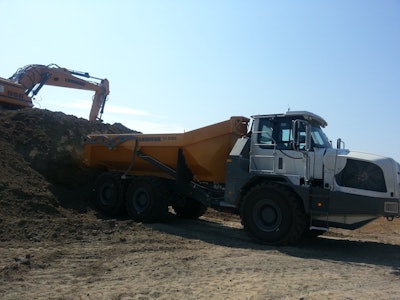 At an event in Newport News, Virginia, equipment editors were able to get a first look at the newest product in Liebherr's machine lineup—a 30-ton articulated dump truck.
Although the truck isn't set to make its U.S. debut until  2015, the unit is on hand at the Newport News facility for testing and to preview for Liebherr dealers, who will be at the factory for a dealer meeting next week.
The addition of ADTs is part of a broader strategy to expand the company's reach, says Peter Mayr, who was named president this summer.
"We want to close what we feel are gaps in the market," he says. "We plan to increase our coverage and bring additional products to the U.S. market."
Mayr says Liebherr will target expanding in scrap handling, waste recycling, logging and demolition, as well as general dirt applications. In addition to the TA 230, a 40-ton ADT will also be offered.