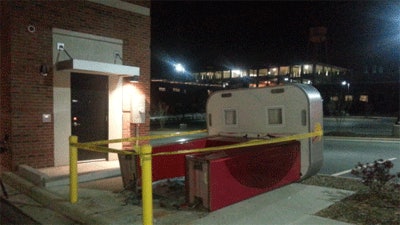 This brings a whole new meaning to "knocking over an ATM."
Police in Winston-Salem, North Carolina are on the hunt for a man accused of first stealing an excavator from a nearby construction site, and then using it to drive off with an entire ATM and its contents.
According to WGHP Fox 8, police responded to an ATM alarm call at Allegacy Federal Credit Union around 1 a.m. Monday.
After examining the crime scene and surveillance footage, police told Fox 8 that a man stole an excavator from a nearby construction site, drove it 200 yards to the credit union, knocked over the ATM using the excavator's bucket and then scooped the 1-ton ATM into a getaway vehicle.
No word on the whereabouts of the excavator. A complete description of the suspect hasn't yet been relesased, but police say he was a short man as he had trouble reaching the excavator's controls.