February Editor's Pick: Capable Crawl
Handle a range of site prep applications including landclearing and grading with Komatsu America's D37-23 and D39-23 crawler dozers. Powered by a Tier 4 Interim Komatsu engine, the 220-rpm dozers offer a fuel savings of up to 10 percent compared to previous models. The dozers deliver 80 and 105 horsepower, respectively, and both offer an Economy (E) mode and Power (P) mode. The dozers have Komatsu's KDOC Diesel Oxidation Catalyst, which works without a diesel particulate filter. Standard features on the machines, which range in weight from 18,386 to 21,363 pounds, include high pressure common-rail fuel injection, engine and hydrostatic transmission pump control technology, a direct flow air filter and variable flow turbo charger. Both are equipped with KOMTRAX technology, Komatsu's wireless management system.
Komatsu incorporated features designed to improve operator performance and comfort, including a forward cab design, an air pressure system that reduces dust and debris and an integrated ROPS/FOPS structure. Both models are also available in long track and low ground pressure models.

CUSTOMIZABLE GRAPPLE
Simplify rail construction with the Tie Bundle Grapple from Rotobec, which is available in four models – the 56TBG, 73TBG, 83TBG and 108TBG – which range from five to nine ties wide, respectively. The grapple has a large contact pad area that makes contact flat with the ties to ensure holding power, and customized pad sizes are available for specific applications. The TBG also has continuous high torque and can be set up to fit most common yoke sizes. Featuring 360-degree rotation and weighing from 1,475 to 2,735 pounds, the grapple is also useful for maintenance.
EFFICIENT PROJECT MANAGEMENT
Streamline project management with Dexter+Chaney's Spectrum Project Management, which is as useful in the field as it is in the office. Set to launch at this month's World of Concrete show, Spectrum Project Management is 100-percent web based, enabling the user to launch a web browser from anywhere to access the full features of the software. Part of the Spectrum Construction Software product line, Spectrum Project Management offers capabilities that typically require several software products to achieve, says the company. The software allows for a continuous flow of information that moves not only from place to place, but person to person, and creates a complete system that helps managers handle the work, documents and communications that make up complex construction projects.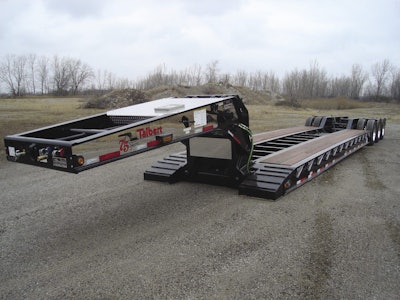 LIGHTWEIGHT HAULER
Accommodate superloads with the 40-ton lightweight trailer from Talbert Manufacturing, designed for use in states with 120,000-pound gross vehicle weight rating restrictions. Weighing slightly more than 18,000 pounds, the trailer can handle excavators and mid-size dozers while remaining under the superload limit. The three-axle, 26-foot trailer has a four-beam deck design and auxiliary crossmembers that provide extra floor support. Using 16-inch beams consisting of T-1 flanges and 80K webs paired with lightweight Walther EMC Dura-Light Hubs and CentriFuse brake drums enables Talbert to reduce the trailer's empty weight. A new ratchet neck design eliminates the need for changing adjustment blocks while allowing the operator to adjust the ride height of a trailer from one side of the trailer. The trailer is also customizable with a 22-inch deck height and a deck boom well, and a six-foot-long recessed portion is plated for an excavator bucket. The six-inch-deep recess lowers the overall height of the boom, ensuring legal load height.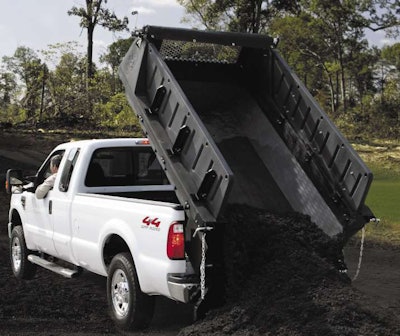 PICKUP DUMP
Use your pickup to haul and dump a variety of material with DumperDogg dump inserts from Buyers Products, which have a dump angle of up to 40 degrees and are available for 6- and 8-foot truck beds. The inserts are available in 12-gauge steel and 304 stainless steel, and also in polymer for 8-foot beds. The steel and stainless steel inserts offer a 2-cubic-yard capacity in the 8-foot version and a 1.5-cubic-yard capacity in the 6-foot insert. The polymer insert has a 1.6-cubic-yard capacity. Features include 3/4-inch tailgate hinge pins that support the inserts' 6,000-pound payload capacity and a double-pivoting removable tailgate. A 1.5-kilowatt motor powers the hydraulic pump, which can be operated from the cab via a tethered control box. Optional features include bolt-on cab guards, tarp kits and wall extension brackets.
USEFUL APP
North American customers of CNH can now find and order parts from the CNH Parts & Service smartphone app, My Yard. The fleet management app allows equipment owners to manage, organize and store equipment data online, including creating pick lists for specific equipment models that they can submit to their dealer from their phone. The My Yard app also enables customers to access assembly diagrams and part numbers, find parts for specific machines and connect with their dealer using call and email features. The My Yard mobile application is available as a free download from the Apple Apps Store or Android Google Play, or from the Partstore web pages at the Case Construction Equipment, New Holland Construction or Kobelco America sites.