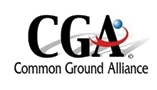 A Common Ground Alliance report, analyzing 2011 utility damage events, has found damage occurs less than 1 percent of the time when those who dig notify a 811 call center before breaking ground. The report, based on CGA's Damage Information Reporting Tool (DIRT), estimates that the total number of damages could be reduced by 31 percent if all digging was preceded by a locate request.
The DIRT report, started in 2008, received nearly 100,000 additional records this year, with a significant increase in participation from locators.
Because more complete data was submitted this year, CGA employed a new approach to estimate the total underground incidents for 2011. The new analysis used a linear regression model for the 11 states believed to have mandatory damage reporting. The result was that underground utility events continue to be a major problem, with 330,000 incidents estimated last year. Although this number represents a new baseline, the downward year-to-year trend in incidents since the report's inception in 2004 continues to be valid.
The 2011 DIRT Report examined the root causes of 80 percent of all events submitted (up from 54 percent for 2010), and the top causes were identified as follows:
Excavation practices not sufficient, 41 percent
Notification not made, 26 percent
Locating practices not sufficient, 22 percent
The percentage of known incidents listing "Notification not made" as a root cause dropped 6 percent from 2010 to its lowest point during the last five years, demonstrating the effectiveness of the 811 campaign.
The complete DIRT Annual Report for 2011 is available for download at www.commongroundalliance.com