UTILITY TRACTORS
By Lauren Heartsill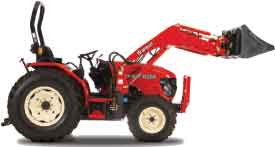 NEW HOOD
The Branson Tractor 20R series features a newly designed hood that uses suspension support spring shocks, instead of prop sticks.
• Front brush guard folds down flat, creating a worktable
• Control valve is repositioned to the upper side of the fender
• Includes a bracket for access to the radiator screen.
Visit EquipmentWorld.com/info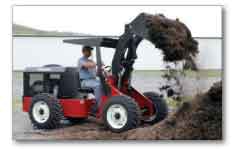 QUICK ATTACH
The Power Trac PT-1445, a 45-horsepower diesel machine, lifts 1,800 pounds.
• Quick Attach allows operators to change attachments without
leaving their seats
• Lifts materials 7 feet high
• More than 30 Power Trac attachments fit the PT-1445.
Visit EquipmentWorld.com/info
Tips for Buying Utility Tractors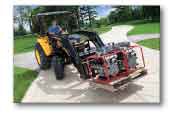 What size tractor do I need?
For light excavation, trenching and loader work, a sub-compact (0 to 20 horsepower) or compact tractor (40 or less horsepower) should handle each job efficiently. Both offer power, durability and a wide range of applications.
What features should I look for?
Major features such as horsepower, available attachments and comfort should be on the top of the priority list. For horsepower, compare gross, net and PTO horsepower to make sure the product has enough power to handle all of the tasks you have in mind. Next, think about what the product will be used for and what attachments will be needed. Front loaders and backhoes are the most common, but attachments like post-hole diggers and mid-mount decks are available for most units. Finally, check the operator's station and spend time in the seat making sure it's comfortable enough for extended hours of use.
Source: Cub Cadet Yanmar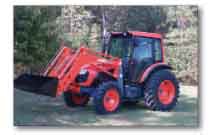 TURBO ENGINE
The Kioti DK75 tractor includes features such as a push button four-wheel drive, single lever joystick, forward facing hydraulic couplers and rear differential lock.
• Uses a 75-horsepower, 268.5-cubic inch, turbo-charged diesel engine
• Features a Category II, 3-point hitch with stabilizers and telescoping ends
• Has a fully enclosed cab with air conditioning and heat.
Visit EquipmentWorld.com/info
POWERFUL DIGGING
The Kubota M59 utility tractor's backhoe has a 12-foot digging depth, bucket digging force of more than 7,600 pounds and dipper digging force of 4,731 pounds.
• Features an integral mainframe
• Employs a quick attach coupler and optional third function valve
• Loader lifts 3,960 pounds at a maximum height of 10.5 feet.
Visit EquipmentWorld.com/info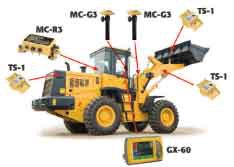 LOADER CONTROL
The Case 570MXT Series 3 loader/tool carrier features a single-lever loader control and delivers 79 net horsepower.
• Push-button differential lock and transmission de-clutch are close at hand
• Automatic self-leveling feature minimizes bucket spills
• Has a forward max travel speed of 25 mph.
Visit EquipmentWorld.com/info
HANDLE HYDRAULICS
The John Deere 5M Series, with five models ranging from 65 to 105 horsepower, is designed to handle high-demand hydraulic applications such as heavy-duty loader work.
• Features dual-function mid and rear hydraulic remotes
• Has wet traction and PTO clutches
• Primary pump puts out 6.3 GPM flow.
Visit EquipmentWorld.com/info

THREE SPEEDS
The Bobcat CT235 compact tractor features a 35-horsepower engine with three travel speed options, hydrostatic transmission and four-wheel drive.
• Weighs 3,056 pounds and is 55 inches wide with agricultural tires
• Three-point hitch for rear implements has hydraulic position control, telescopic lower links, telescopic stablizers, crank-type lift rod and swinging swaybar
• Has a swinging drawbar.
Visit EquipmentWorld.com/info

GEAR-DRIVEN
The Cub Cadet Yanmar Lx series – Lx410, Lx450 and Lx490 Turbo – are gear-driven compact utility tractors that allow users to choose how much power they require – 41, 45 or 48.5 horsepower.
• Boom loader can handle up to 2,493 pounds
• HydraReverser shifts between forward and reverse gears without the use of a clutch or the need to stop
• Lifts up to 2,760 pounds.
Visit EquipmentWorld.com/info
For more products, visit our digital issue at www.EquipmentWorldDigital.com.