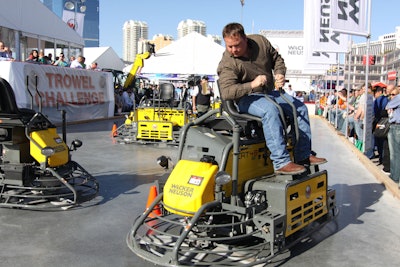 Wacker Neuson will host its third annual Wacker Neuson Trowel Challenge competition during the World of Concrete on Jan. 18 through Jan. 21 in Las Vegas.
The fastest finisher will win a customized Wacker Neuson CRT 48-35VX ride-on trowel powered by a special Vanguard Big Block V-twin engine.
Held in Wacker Neuson's outdoor exhibit, No. O30247 silver lot, the ride-on challenge tests the operator's entire range of skills as the participant maneuvers around an obstacle course that weaves throughout a 2,400-square-foot slab.
Preliminary trowel challenge competitions will be held during show hourse on Jan. 18 throught Jan. 20. The top 10 times from the preliminaries will advance to the finals at 3 p.m. on Jan. 21. All registered World of Concrete contractor attendees are eligible to compete on a first-come, first-serve basis.
For more information, visit trowelchallenge.com.