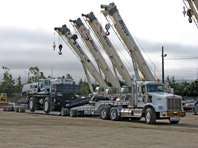 Bigge Equipment opened a new facility in Houston, Texas, for rental and sale of rough terrain, crawler and tower cranes.
The new facility will matinain its own fleet of cranes and will have access to heavy lift and specialty transportation equipment from the company's nationwide network.
For more information on crane requirements in the Gulf Coast region, contact Jeff Pobanz at jpobanz@bigge.com.