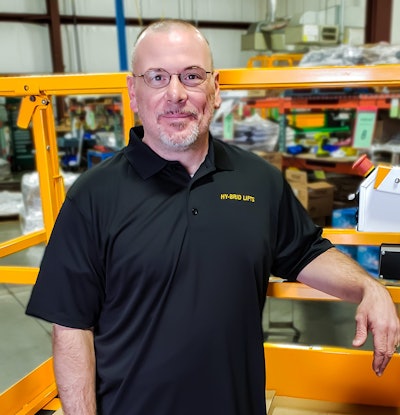 Custom Equipment has named Paul Allen as its Northeast U.S. territory manager to support customers in this region, where the company has a growing presence.
He will focus on continuing the expansion and channel development of Hy-Brid Lifts, Custom Equipment's line of lightweight low-level scissor lifts. Custom Equipment is based in Richfield, Wisconsin,
"Paul is a great asset for our team," says Dan Schneider, Custom Equipment vice president of sales. "With a growing construction industry, we needed someone who can continue to give our customers in that region the attention and support they need to be successful."
Allen has more than 10 years of sales experience selling and renting into the construction industry, including positions at Altec Industries, NES Rentals and most recently Admar Supply. Allen has a bachelor's degree in marketing from State University of New York at Plattsburgh.
"I am very excited to join Custom Equipment," says Allen. "It's great to be part of a team that builds high-quality American-made equipment that provides solutions to contractors' construction challenges."
Custom Equipment LLC engineers and manufactures all-purpose Hy-Brid Lifts brand of scissor lifts in electric self-propelled and push-around models.