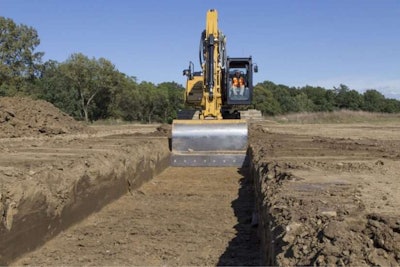 The New Iron Expo will be held in Hinkley, Minnesota on April 3, 4 and 5 with more than 100 vendor brands, training opportunities and dynamic hands-on experiences. It will be held on the 400-acre property of International Union of Operating Engineers Local 49.
Local 49 Business Manager Glen Johnson says the goals of the event range "from showing a wide-eyed child the capabilities of a large piece of construction equipment to showing a contractor the benefits of working with union trained workers."
"The equipment scheduled to be on display is some of the newest and most innovative stuff around," says Johnson.
"This isn't just for contractors and it isn't just for vendors," said Johnson. "This New Iron Expo is about showing the public and those within the industry all of the wonderful things happening in training, job growth and machinery."
Two of the vendors, V.J. Polkus, a territory manager for Ziegler Caterpillar in Bloomington, Minnesota and Ben Carlson, a Seppi sales agent, are both excited to bring some of the best technology in the industry to the New Iron Expo.
"This is a big demo opportunity and a chance to ask questions and get educated answers," said Polkus. "This is a major showcasing opportunity for us."
Polkus said he is eager to show off the Cat 323F Excavator at the Expo.
"This new generation of product is newly designed inside and out," said Polkus. "It has increased visibility, a redesigned cooling system and more overall productivity."
Carlson, a Seppi sales sgent for 25 years. calls the event a first-of-its kind.
"This event set up is conducive to showing many people all the things our mulchers and tillers can do," he said. "Some of the products are things people don't always get to see in action."
Carlson who works with Seppi distributor, Minnesota-based Abra Equipment Supply, says that both the Forestry Tiller and Mulcher scheduled to be at the event are game changers in the industry.
"These products are the perfect forest to farm machines," he said. "They can clear trees and crush rock ten inches down,"
Whether it is seeing a new piece of machinery up close and taking it for a spin or seeing firsthand the dedication Local 49 has for training, the New Iron Expo has a little something for everyone. For more event details – watch the below Expo video.
New Iron Expo At-A-Glance:
What: A three-day exposition, free and open to the public highlighting the latest in construction technology and safety training
Who: Nearly 100 vendor brands, including the biggest names in the industry will unveil latest trends and equipment.
When: From 8 a.m. to 5 p.m. Tuesday, April 3; Wednesday, April 4; and Thursday, April 5
Where: Local 49 Training Center in Hinckley, Minnesota, a few miles east of Grand Casino Hinckley
Why: Discover the latest equipment technology and watch real time demos of new products that are impacting construction efficiencies and effectiveness. In addition, seminars and examples of Local 49's unmatched training program on display
The International Union of Operating Engineers, Local 49, is one of the largest unions in the Midwest, serving approximately 13,500 members throughout Minnesota, North Dakota and South Dakota. It represents engineers who operate cranes and heavy equipment used in highway and building construction, well drillers, equipment repair shops, welding shops, sand and gravel suppliers, counties, municipalities, hospitals, school districts and more.
Since 1927, the union has been supporting members by providing good wages, benefits, ongoing job training and job security. For more information, go to local49.org or check out Local 49's Facebook page.
To register or learn more about the 2018 New Iron Expo https://www.local49training.org/new-iron-expo/