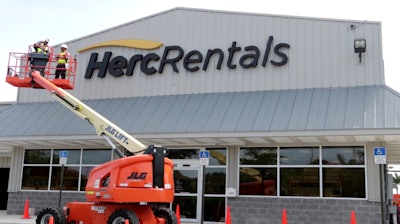 The strong 3Q reports from Herc Rentals, H&E Equipment Services and United Rentals serve to underscore a recent forecast by the American Rental Association (ARA).
Updating its five-year forecast, ARA says it expects equipment rental revenue to grow at a compound annual growth rate (CAGR) of 4.7 percent between 2017 and 2021. This forecast has changed little since last updated in August, according to the association.
The ARA Rental Market Monitor says total U.S. rental revenue is expected to grow by 4.5 percent in 2018 to a total of $51.5 billion. ARA expects revenue to grow 5.5 percent in 2019, 4.9 percent in 2020 and 4.1 percent in 2021.
Consistent growth is also expected north of the border, with Canadian equipment rental revenue reaching $5.3 billion in 2018, followed by growth rates of 4.1 percent in 2018, 5 percent in 2020 and 4.8 percent in 2021, reaching a total of $6.11 billion.
The construction/industrial rental revenue segment is expected to reach $40.4 billion in 2021, reaching a CAGR of 4.1 percent. The general tool segment will grow an anticipated 5.7 percent CAGR over the forecast period.
John McClelland, ARA's vice president for government affairs, calls the forecast "strong," allowing for consistent growth. Caveats, however, would include possible impacts from tax reform or changes in infrastructure spending.