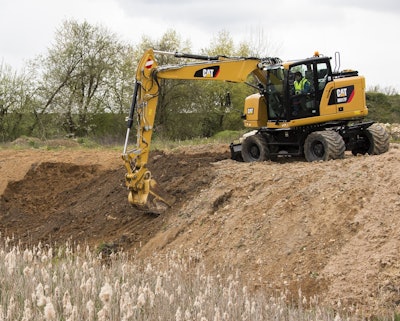 The Association of Equipment Manufacturers (AEM) recently honored CNH Industrial with its "Pillar of the Industry" award.
This is the fifth year in a row that CNH Industrial has been recognized for improving the business environment for equipment manufacturers in the United States in 2016 and for its participation in AEM's "I Make America" grassroots program. CNH Industrial also received the special "Legacy Award" honoring its five consecutive years of achieving "Gold Status" in the "I Make America" program.
"We believe in taking action in pursuing and shaping manufacturing policy that fosters growth, innovation and global competitiveness," says Brad Crews, Chief Operating Officer for CNH Industrial's NAFTA region. "AEM's efforts here benefit each of our facilities and employees throughout the U.S., and we look forward to continuing to work with AEM to strengthen and expand the foundation of American manufacturing."
Read the full story here.
As part of a $4.5 billion investment in the production of electric vehicles by 2020, Ford announced that it will introduce a hybrid drivetrain option for its F-150 pickup truck.
Though rumors have been swirling the last couple of years around the possibility of a diesel-powered F-150, Ford has repeatedly said it would instead focus its fuel efficiency efforts around its gas-powered V6 EcoBoost engines. The 2.7-liter EcoBoost provides an EPA estimate 21 miles per gallon combined (19 city/25 highway), while the 3.5-liter version provides 20 mpg (17 city/24 highway).
Apart from offering "powerful towing and payload capacity," Ford shared few details on the upcoming hybrid F-150 outside of the facts that it would be built at its Dearborn (Michigan) Truck Plant and that it would be available by 2020. It's unclear what kind of gas mileage this new truck will get or what type of fuel will complement the electric power.
Read the full story here.
Boasting more efficient operation and more hitting power than its predecessor, Brokk has introduced its latest remote-controlled demolition machine, the Brokk 110.
This electrically powered demolition machine features a 10-foot reach and weighs 2,183 pounds. At only 31 inches wide, the machine can fit through standard doors and inside passenger elevators. It packs 15 percent more power than the Brokk 100 it replaces and features the company's new electrical system which incorporates hardened components and fewer moving parts than the previous system.
"Brokk SmartPower optimizes performance based on a number of factors, including power supply quality and ambient temperature," the company explains. "The system can sense when a power supply is poor or faulty, making it suitable for generators or unreliable power supplies."
Read the full story here.
So what's new in heavy trucks? Everything.
Since the first emissions regulations for on-highway diesels arrived in 1974, four primary components of emissions have become well controlled: carbon monoxide (CO), oxides of nitrogen (NOx), hydrocarbons (HC) and particulate matter (PM).
Now the federal government has its sights on regulating greenhouse gases and improving fuel economy. This has led truck OEMs to re-examine their designs in order to meet these standards, while also meeting customer demands.
Advances in drivetrain technology are yielding higher power density (power output for a given size of engine), allowing the use of smaller- displacement, lighter-weight engines for improved fuel efficiency with no loss of performance. Other changes further improve fuel economy; the net improvement is typically in high single-digit percentages, but may be more.
Read the full story here.
In October, Caterpillar expanded its F Series lineup of wheeled excavators with two new compact radius models: the M315F and M317F.
These models are the smallest wheeled excavators in the F Series lineup and are designed for use as tool carriers. Both models can also be equipped from the factory to accept the company's new tiltrotator which rotates 360 degrees and allows for direct mounting of work tools.
To illustrate the capabilities of these new models, Cat has put together a video showing off their versatility. You can check that out below.
Read the full story and watch the video here.