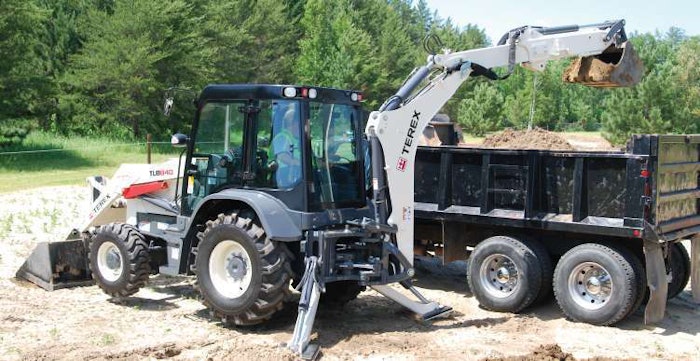 Terex is now completely out of the earthmoving business.
According to a report from The Construction Index, the company has agreed to sell its UK-based operation where it manufactures backhoes, site dumpers and compact compaction rollers, to Mecalac, a French manufacturer of compact loaders and excavators.
The deal, details of which have not yet been announced by Terex, is expected to close in the first half of 2017, TCI reports.
The sale is the third equipment divestiture of the year for Terex. In May the company solid its Material Handling & Port Solutions business to Konecranes after entertaining and then ultimately deciding against a merger with Chinese manufacturer Zoomlion. In June the company sold its compact construction equipment business to Yanmar. That division manufactures midi/mini excavators, wheeled excavators and compact wheel loaders.
Read the full story here.
The U.S. construction industry has reached a level of employment not seen since December 2008 as spending remains strong despite a sizable decrease in home starts, according to the latest government data available.
According to preliminary data from the Labor Department, the construction industry added 19,000 jobs in November and now employs 6.704 million Americans. The 8-year high represents a 2-percent increase over November 2015.
The industry's unemployment rate was flat in November at 5.7 percent.
As we reported earlier this month, construction spending rose 0.5 percent in October to $1.172 trillion, according to the most recent data available from the Commerce Department. That total is 3.4 percent above the October 2015 total.
Read the full story here.
Bandit Industries, manufacturer of chippers, grinders, mulchers and skid steer/compact track loader attachments, has added Louisville Tractor Incorporated as an authorized dealer covering southern Indiana and north central Kentucky. The dealer will focus on Bandit's line hand-fed chippers and stump grinders.
"We've worked with Louisville Tractor for years, and we're very happy to have them on- board as a Bandit dealer," says Bandit Industries sales manager Jason Morey. "They know Bandit equipment, and they also know how to take care of customers. Our companies share the same philosophy of customer service, and I'm very excited at what we can achieve as we work together for Bandit customers in the region."
Read the full story here.
Bobcat Company has added Bobcat of Dallas-McKinney as an authorized dealer of new and used equipment and service and parts provider. It is the fifth location of Bobcat of Dallas and will serve the north side of the area.
"We believe that Bobcat equipment, when paired with the local support of our dealerships, provides the best value for our customers and helps make them and their businesses successful," says Cole Young, president of Bobcat of Dallas. "Our experienced and knowledgeable staff allows us to be experts in our field. We partner with customers to select the best equipment for their businesses and then focus on keeping them productive through our service and parts departments. Our rental department stocks the full line of Bobcat machines and attachments to help customers tackle multiple jobs."
Read the full story here.